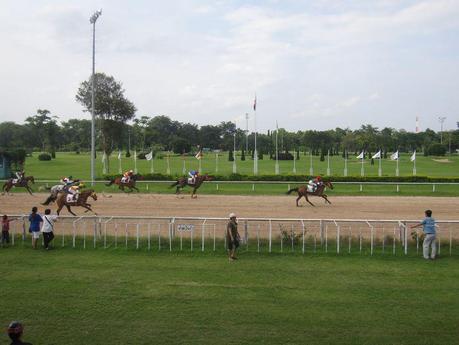 After a big night out at our favorite jazz bar followed by a very late brunch, it's hard to think of a better lazy Saturday afternoon activity than heading to the race track. 
We first read about the Chiang Mai Horse Track in our fabulous Nancy Chandler map (which I am completely obsessed with) and after a failed attempt to head over there last weekend due to too much rain we were thrilled to finally have a dry weekend. Races take place every Saturday between about 12:30 and 5p and admittance costs 20 baht (roughly 70 cents). There are usually between eight and ten races in a given afternoon with a 30 minute intermission between meaning plenty of time to wander the stands and take in the spectacle that is Thai racing culture.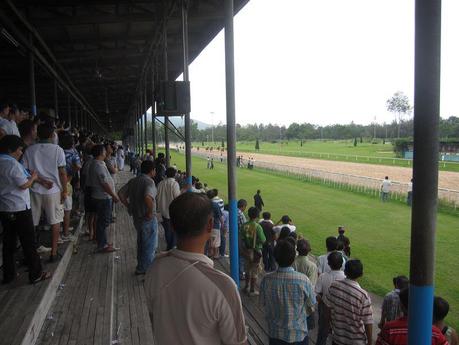 Suffice it to say the Thais are very into their horses - studying their racing forms like bibles, and pacing the grass around the track, sipping 10 baht iced teas and Chang beer and peering through binoculars at the horses as they get set in the gates on the other side of the park. 
While we may have been tempted to put down a few small bets, we (intelligently) feared that even if we were victorious our extremely poor Thai would mean no way to collect our winnings. Therefore we entertained ourselves by making our own "unofficial" picks, all of which Jesse managed to win.
Shocker. I tell you, the man is incapable of losing. At anything.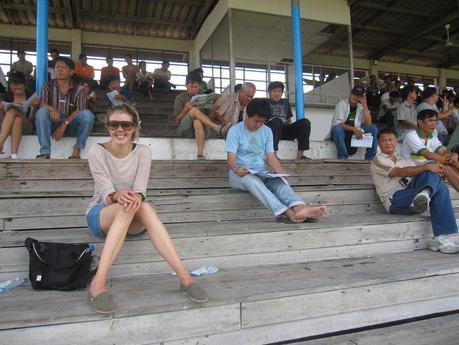 (Amazing picture, right? Nobody was very keen on sitting near us...)