Nicholas Price
A Colourful View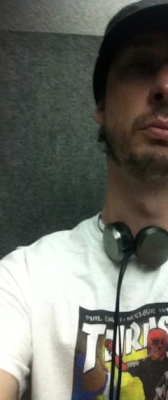 When we first saw Nick's work we thought how far out and wicked it really was, it slaps you in the face with it's vibrancy of color and texture. Such an ace collage of surrealistic manipulation that we couldn't stop our selves from getting in touch and having a chat...
RDC: Great to meet you Nick, tell where you are from and where you live now please?
I am from London in the UK. I moved to Japan around four years ago as I was sick of the rising crime in London.
RDC: What sort of media do you use?
I use a wide range of media like spray paint, acrylic paint, a range of paint pens, Japanese ink, collage.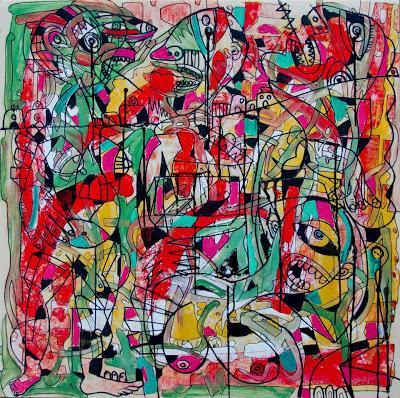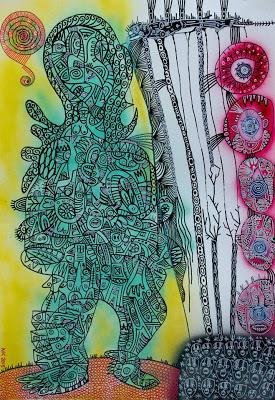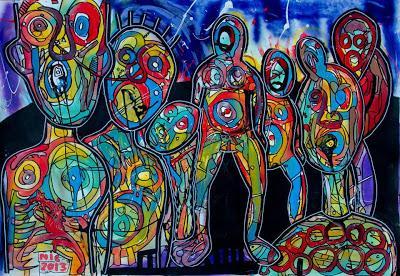 RDC: Are you self-taught artist?
I started to draw when I was three. My father is a hobby artist so I suppose I learnt some from him and I went to college but really just used their equipment, I suppose I am a natural.
RDC: Describe your style?
My style evolves all the time, I would say I am a not a true painter but a street/urban artist. I constantly change and adapt different ways to make the best art I can and there will be more to come. I hate those one trick pony artists who stay within a safe and boring style just to sell.
RDC: Tell us how you began with your vibrant - coloured surrealistic art?
It started when I decided to buy a load of spray cans from my local DIY store, they are dirt cheap there and I thought I can cover a lot of color ground fast with these as I am not into painting large areas, it is boring. I also made a lot of stencil shapes. When I actually first used the spray cans I realized they are not totally accurate but this made it even better for me and more random. I then go into detail with inks and white paint pens creating a kind of stained glass window effect. It has evolved from then I suppose.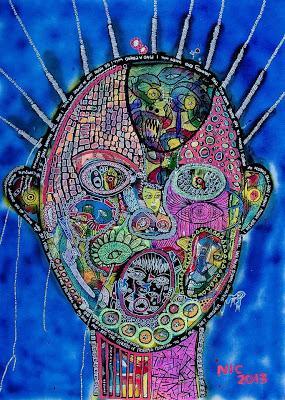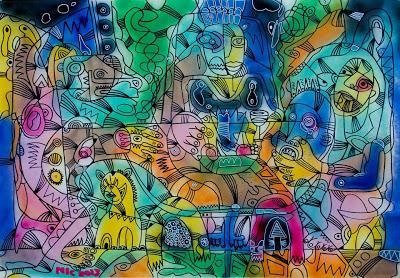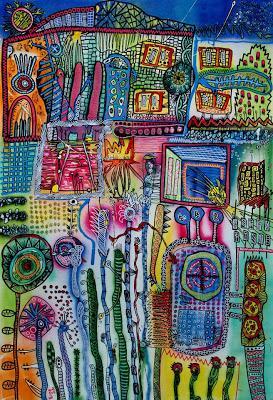 RDC: How has the Japanese taken to your work and what influences of Japan can be seen in your pieces?
The Japanese are interested and also scared by my work as some of them like the traditional boring stuff. My work is more for the US or European market as it is a bit wild and rock and roll like me. Japan shook my brain into creative mode again because visually it is so different to London. The people here are wild and the colours are crazy. Japan has a real impact on my work and where I live now is full of nature, rivers and great beaches.
RDC: We understand you do a bit of drumming, tell us about that?
I have been drumming for 20 years and it is my second love to art, I love funk and soul and jazz fusion also metal, I play in several bands here and love Jam nights of the blues nature.
RDC: You say Lucifer is your father, does he appreciate your skills and what words of advise has he passed on to you over the decades?
I am Atheist but I love horror films so I love the idea of the devil and his banning from the heaven. Christian art is so boring trust me.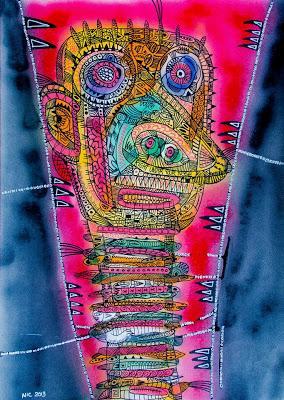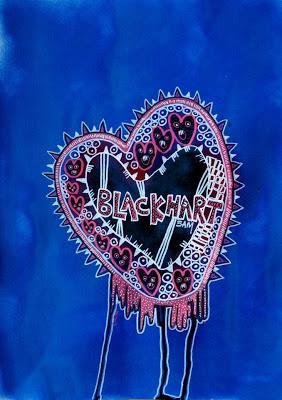 RDC: Have you got any shows coming up?
I am planning to do a show here where I live, so that should scare a few people... My birthday is in September so I will plan to do a show for then.
RDC: Any last words?
I love art, I love drinking and I never quit what I do. I have a foul mouth and I am honest in the art world. If a painting is shit then I say it is, I am not one of these ass lickers. I do what I want when I want and it is the same in the art world.
Live life to the full and most important------------have fun!
RDC: Thanks so much for the meet up Nick, keep up the good work...
More from him... HERE