Borondo
Interview



We heard about Borondo through one of our Italian Gallery connections. As soon as we saw the images of his work we were emailed, we  knew we had to hook up - here's how it went...
RDC: It's so good to meet you dude, can you tell us where you're from please?

I grew up in Segovia but I spent my adulthood in Madrid. Soon I understood that I have a lot "houses" around the world but at the same time I don´t find my original place.
 RDC: What media have you tried in the past and what are you using now?

I started from spray because I was doing graf in the past i used conventional graffiti techniques but in the mean while I was working on techniques of traditional painting but I always had a tendency to work in the streets. After a bit I experimented on various materials and techniques in the public spaces. At this period I am developing my own technique of screeching glass while when I paint I love using the role because it's has the most direct and expressive gesture for me.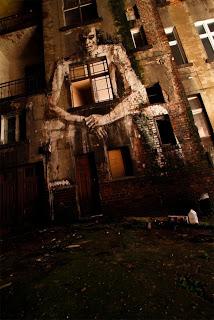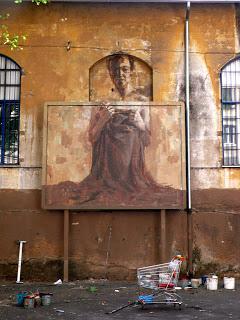 RDC: Did you start as a street artist and are you a self taught?
 Yeah, since I was a kid I was intervening on the city. As far as self taught I consider my self a person who is influenced by everything going on around me. I studied in Madrid's Fine Arts Academy but I learned the most important stuff from other people outside the Academy. For example the street art collective I was working or the time spending in other artists studios.
RDC: Could you tell us about your passion for dark colours and your interest in human forms in your work?
I use desaturated colors because I hate the advertising world where we live, all of the cities infected with neons, strong colors an others kinds of visual polution. I try to talk with the space, specially with the old places because I like how this kinds of places are talking about history, about the pass of time and about the real sense of the things..
At the other part, I use the human forms because I´m searching talk about the essential things of the human, I want to be free of the all of the possible references of the kind of life that we have, I want to go far of the images or symbols that the capitalism put in us brains to forget us real nature.
I hope to put something poetical in the cities to remember the important of live the streets and contact with the rest of the world and with the real kinds of comunication.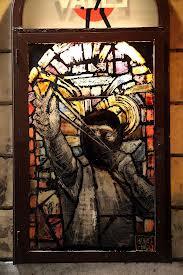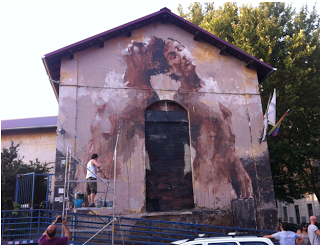 RDC: What hobbies have you got?
Hobbies are a part of the society of well being. So when I'm not working... I go out, I drink, I walk, I talk... in the end I live how I can and how I want.
RDC: What shows and street art sessions have you got coming up?
I will be traveling a lot this year in and outside Europe. I can´t confirm at the moment all of the projects but I hope you can see in the future the works when I will do it.
 RDC: Thanks so much for the coffee and the chat Borondo - stay in touch and keep us up to date with your work... ☋
More from Borondo's blog.... HERE