My home smells like Christmas… warm, cinnamon-y, Gingerbread-sy!
And that's all thanks to my darling little nephews! Ahaan, the 3 year old, helped me bake some "Zinzer"bread Cookies the last time he was visiting here in January. I thought I'd roll out  the dough & have him stamp out the shapes. But no sir… that's too easy!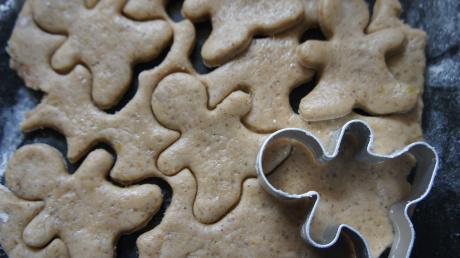 He wanted to stir & stir & stir the butter & sugar! And when turned my back for a bit  to get something, he was busy adding spoonfuls of some more  butter & sugar! Since then, almost every time we speak, it's "Maasi, I want zinzerbread man!" He apparently even told his mum the cookies she made were "Nice, but not like Maasi's!" Oops! Didn't make my sister too happy!
Anyway, so my parents are flying over to visit my sister (lucky them!) & I have been ordered to send a batch of cookies with them!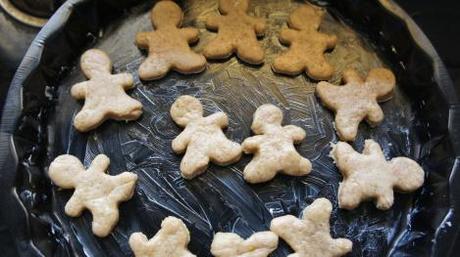 Luckily I had the kitchen all to myself this morning before all the craziness started. Music on, on, ingredients in place, I got to work using the same recipe from Pham Fatale I had worked with earlier. My sister's family is vegetarian so this one had to be Eggless. The boys don't eat honey either & I didn't have molasses on hand, so I used Maple Syrup. A good call, because I love the rich flavour of Maple, it adds depth to the cookies. The last time I made these I used lemon zest & juice, which was good. This time I used Orange… it was heaven!  Add powdered Cinnamon, Cardamom & Nutmeg along with the key ingredient Dried Ginger Powder to this & you've got Christmas in your oven!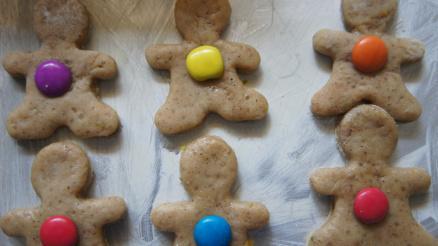 The Orange Juice-Cinnamon Glaze drizzled over the cookies made them even more magical & Christmas-y! I can't get over the aromas wafting out of my oven, lingering around my Kitchen… sweet, spicy, & so festive!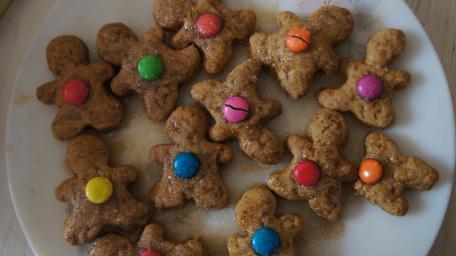 Sending all my love to my little babus with these cookies! Save some for Mama & Papa too, okay?