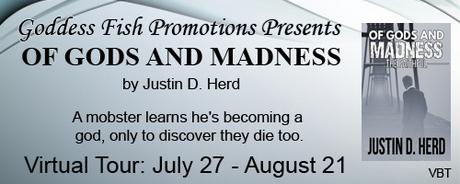 INTERVIEW
Welcome!  Thanks for stopping by and answering a few questions!  What do you think makes a good story?
A layer of unpredictability. An adherence to the rules of your story. My favorite stories are ones that you can revisit time and time again and still find something new in them to pique your curiosity.

What book are you reading now?
Skullcrack City by Jeremy Robert Johnson. He's the writer that got me into Bizarro and this book is a definite treat.
What songs are most played on your Ipod?
I tend to be a full album sort of guy. I'm not good at mix-tapes (as if they were still a thing) or playlists. Instead, my favorite bands are Murder by Death, Karnivool, and Hurt. I love concept albums, like Dream Theater's Metropolis Part 2: Scenes from a Memory, the Decemberist's Hazards of Love, and My Chemical Romance's The Black Parade.
What is your favorite meal?

Red Chicken Curry, Spicy 5. I have a local restaurant, Panang, that is the best Thai food I've ever had. I've traveled all the way up to Alaska, through at least a dozen states and more cities than I can count, but I always come back to Oklahoma City to eat at their restaurant. Honestly, I'm kinda afraid that I will find a place that's better and then I'll have to move!
What group did you hang out with in high school?
I was a part of what was known then as The Freaks. Not so artsy to be Goth, but still darkedy-dark-darkness and all that. We'd hang out in the Smokers parking lot, but I was also the type to show up early (around 6 am once I had my car) so I'd be there before everyone else and be able to talk to everyone as they entered the school. I'd show up for Sophomore orientation and show people around, despite not being on the volunteer committee (or student council or anything like that). I'd mingle with all the groups. In other words, I wasn't shy and didn't necessarily commit myself to any one role.
What would you consider to be the best book you have ever read?
Neil Gaiman's American Gods. It is a nearly flawless book (with the exception of Sam's introduction) and I absolutely love the way it blends the gods into modern America, including reworking their mythologies and the way they use worship and belief. You can obviously see its influence on my current novel, Of Gods and Madness: The Faithful.
Morning Person? Or Night Person? How do you know?
I'm chipper and fully alert in the morning, but I believe myself to be a night person. I tend to think better and can connect dots with relative ease between the hours of 1 and 4 am. Unfortunately, my responsibilities of being an adult and a store manager have meant that I have had to become a morning writer. As I said, I function as a morning person, but my true passion is the night.
Is there a piece of advice that you have received that has really stuck with you? If so, what was it?
The biggest one I'd have to say is when you're writing your novel, don't edit. It's a horrible temptation, but I've seen writer after writer get bogged down in perfecting each chapter rather than moving on with their story. Those are the people that after ten years still haven't finished writing one novel. When I started out, I was one of those people but my mentor, Mel Odom, told me to stop cold turkey and it was the best advice I've ever received.
ABOUT THE BOOK
Of Gods and Madness: The Faithful
by Justin D. Herd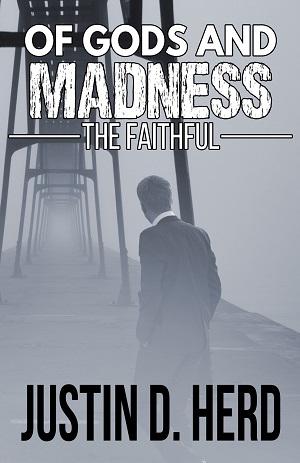 BLURB:
The right hand of the dominant mob family, Raine Morgan is tasked with hunting down two miscreants messing with the bottom line. He finds them on the docks, but, in the confusion of the fight, accidentally kills their victim and lets them escape. Horrified at what he's done, Raine seeks redemption as well as revenge.
Things spiral out of control when a greedy middleman overthrows Raine's mob organization. It's only with the help of a friend inside the crumbling mob as well as a streetwise artist that Raine remains undetected as he searches for the men who started this all. Raine doesn't realize, however, he has caught the attention of a disparate conclave of gods in the process.
As the pantheon returns to the city they'd abandoned, old conflicts re-emerge, causing divine civil war. Both sides try to pull Raine to their side, expecting to find a naive god for them to manipulate. Instead, they find a man stripped of everything, intent on playing both sides as they learn an awful reality - even gods can die.
buy links:
Amazon:  http://amzn.to/1z2xC51
Smashwords:  http://bit.ly/1HJhacW
Nook:  http://bit.ly/1dH2q1H
iTunes:     http://apple.co/1K5I0tg
Google Play:  http://bit.ly/1FJIeHf
Kobo:  http://bit.ly/1zGWboy
Createspace:  http://bit.ly/1cf04qv
EXCERPT
Vents flushed and opened with a rush of steam. Hot enough to melt skin, the air sang to Marise, a beacon leading her home. She turned her head above to the tram line to the pipes and searched for her hole. As she approached her outpost, she slowed and scoped the scene. It was just about time for the dregs of society to pour out into the street. If she was found, well . . . she shuddered. The best outcome would be her being ousted by a city worker. Every other thought left her gripping the blade in her pocket, until her hand ached from the constant pressure.
She peered over her shoulder, found no one in sight. She shifted the bag's strap across her chest and began to climb. Moonlight caressed her as she climbed, hand after hand wrapped around the beams. Faint conversation hit her ears. She paused, wedged between two pipes. Flashing neon from local bars flashed in her periphery. She shot quick glances to each side but saw no one.
She shifted her grip, yelped. Withdrawing her hand, she saw the jagged remains of a twisted bolt. She cursed herself for not paying attention, thankful it was her non-dominant hand. She tried to inspect the wound in the exuberant neons. She fought through the pain, clenching her hand. Blood flowed through fist. She wiped it on her bag.
A giggle came from street level as a couple emerged from between the beams of the landing.
AUTHOR Bio and Links: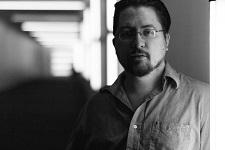 Justin D. Herd is a Fantasy Noir author, who has been writing novels for ten years. He absolutely loves dark, twisted stories that take readers into unexpected places. Horror movies are his passion and he often takes stories to task for not logically thinking out their concepts. His home has been invaded by three eccentric cats, one of which is obssesed with all things digital. He is married with two children.




Website:  http://www.justindherd.net/

Facebook:  http://www.facebook.com/realjustindherd

Twitter:  http://www.twitter.com/justindherd

Patreon:  http://bit.ly/1cLVobm

Amazon:  http://www.amazon.com/author/justindherd




You can buy his books at the following links:




Amazon:  http://amzn.to/1z2xC51

Smashwords:  http://bit.ly/1HJhacW

Nook:  http://bit.ly/1dH2q1H

iTunes:  http://apple.co/1K5I0tg

Google Play:  http://bit.ly/1FJIeHf

Kobo:  http://bit.ly/1zGWboy

Createspace:  http://bit.ly/1cf04qv




FOLLOW THE TOUR!




GIVEAWAY




Justin D. Herd will be awarding a $10 Amazon/BN GC to a randomly drawn winner via rafflecopter during the tour, and a $25 Amazon/BN GC to a randomly drawn host.


a Rafflecopter giveaway