The following was written during my stay in the Bomdo village in Arunachal Pradesh in May 2015. While writing loosely-connected short anecdotes, I drift a lot between stories but try and return each time. You may notice the influence of Brian Doyle's book
Mink river
here. Given that there was no electricity, phone network or internet, I wrote a lot! So I post it in parts. The first part is here.
21
st
May 20151130 hours
The story could start anywhere because the story is made of smaller stories, all linked, linked by the fabric of continuity and relevance. Like, for instance, after a few days of having small meals of
Ragi huri hittu
, I decided to prepare a big meal this noon. The people here call it 'Baara baaji khana', the 12 O clock meal, perhaps the most important one of the day for them, since they work hard in the fields. I will not drift into other stories right away but it is difficult to stick to a narrative since everything is linked, and everything is interesting, to me. Anyway, the big meal.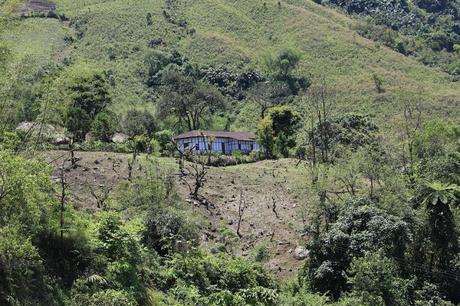 The inspection 'bungalow' I stay in, in Bomdo village, Upper Siang.
I make a fire, that's the start of every meal here. I cut strips of the discarded cartons someone left here, thin strips. I scrape few strips of bamboo, and over these I will later put thin pieces of wood and lastly big ones. Over the years of staying here, I've learnt to light a fire as well as I light a candle, and nine out of ten times, I make a fire with one matchstick. I light one. The matchstick flame lights the carton strips light the bamboo strips which in a few seconds transfer the fire to the small sticks, which in a whiile light the big ones.
I decided to cook dal (lentils), I wash the dal, cut onions tomatoes, chillies and then remembered the curry leaf tree (
Murraya koenigii
)
at
my friend Kubbo's home. I had brought the seedling all the way from Bangalore. A small bag of mud, three small seedlings with only two leaves each. The seedlings were on a train first, then a bus, then a Sumo (four-wheeler), then a bike ride followed by a short walk, it was a long journey; seven days! When I sipped water from the bottle, I also watered them during the journey, but only one survived. Now, four years later it is a small tree, already flowering. I took the short walk to Kubbo's place and brought back a few leaves for my dal. After the dal is boiled in the pressure cooker, I will season it with onions and curry leaves. I've asked Padi (Uncle in
Adi
)
who is presently working in the field adjoining my camp to join me in the meal, for the 'Baara baaji khana'. He has been weeding his field for a couple hours but now its raining, pouring even. So he sits by the fire drying himself.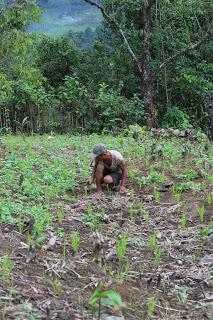 Padi, uncle, weeding his field.
The pressure cooker just whistled, it used to be a new sound for the village even few years back. When Kubbo bought a pressure cooker and it whistled with pressure, his mom almost fell back and broke some wind too and we all laughed. Now, most homes have pressure cookers and it is a familiar sound, of the cooker whistle.
Roy
and I had two 2.5 liter cookers; one for rice and the other for dal/meat. By now, we know the characters of these two cookers. Usha was an old style one, faithful and loyal and after about 15 minutes would usually whistle. Hawkins had a lot of attitude, it was of a newer generation, she just sits there on the fire with no reaction, giving no indication of an upcoming meal while we stare hungry. Then, suddenly it would spew out steam. Sometimes the Hawkins had so much attitude that it wouldn't whistle over a small fire. But we soon figured the trick; adding bamboo strips after fifteen minutes. Bamboo fire is short but has much more heat and then the Hawkins would be satisfied and whistle. Several days when we don't have bamboo, cooking with the Hawkins was a pain.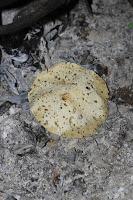 Papad roasted on charcoal tastes better!
Just now we finished eating our 12 O clock meal; dal, rice, fire-roasted papad and Gongura pickle my mom sent from Bangalore. Mom always packs intelligently, things that last, pickles and powders. I always carry mom-made Sambar powder and Roy and Agar bhai would say 'Dalo dalo Maa ka pyar' (put some motherly love). Once after a peg or two of rum, Agar bhai said 'Dalo maa ka doodh' by mistake and we all roared into a laughter. That joke will live forever!
Which brings me to another joke. Agar bhai and I were doing field work one day and in my field bag I was carrying a lux meter, to be used for measuring light intensity. It almost looks like a phone contraption, complete with a light sensor connected with coiled up wire like a phone receiver. I started the joke. I pretended that I was speaking to my mom using the digital device reaching far out with the light sensor for better signal connectivity. After about two minutes of pretending to speak I gave the lux meter to him to speak. Agar bhai was suddenly all shy and the word he said first was 'Maaaa', a bit stretched version of 'Ma' (mother). This is funny because of two things; the village has never had any phone network and perhaps will never even have and Agar bhai is ten years older than me and my prank had transformed him into a kid calling out 'Maa'. Unable to control myself any longer, I broke into a loud laughter and he joined me soon!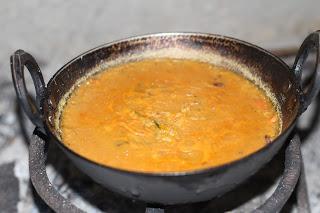 Padi and I finished all this dal with rice in one meal!
The other day another friend Tabu bhaiyya was about to cut my expensive Bose audio speaker into two with his knife, very brave. This is why. I had bought a wireless bluetooth Bose speaker to field to listen to music. I can play music or sound from my phone even 10 m away. The IB, inspection bungalow, I stay in has four rooms. Two rooms are mostly dark and seem haunted almost! The
Adi
never go alone near the IB in the night since it is built over a graveyard. But I need not worry they said, they are
Adi
ghosts that haunt
Adi
people, besides there is the language issue, fair enough, I said. And after a year of getting used to sleeping alone here, they reaffirmed to me that anyways only kids who died were buried here, not adults, and I really had nothing to fear!
From the game called 'Angry Birds', I had downloaded sounds of pigs grunting and laughing. The sound is quite scary in a place like the IB and the
Adi
are anyway trigger-scary of ghosts. I could play the sound from my phone in the pocket and pretend I had nothing to do with it. I set it up. In the night over spirited conversations, I told Tabu bhaiyya about the sound from the dark room and that it scares me. Then, I played the sound. While initially we was surprised, he soon ran towards the sound with a Dao (machete), I then had to shine my torch and declare to him that it was just a harmless speaker. We burst out laughing!
Another day when I played this even in the daytime, a teenager kid Kebo, who was talking to me casually, having heard the sound suddenly started sprinting away from the IB. Feeling guilty, I ran behind him with the speaker to tell him that the Bose speaker was responsible for the sound, he ran harder away. When he came back I explained it all to him and he was still shivering in fear! He said nearby the dogs were running too and he was convinced they had seen or heard something scary too.
More micro-stories to follow.