From Phillips Brewing Company in Victoria BC comes their "Odyssey Nitro Porter" a canned beer with a widget. When you open the can there is quite the hiss from the Nitrogen being released. The beer pours a deep brown colour with a creamy milk chocolate brown. The aroma consists of roasted malts, coffee, milk chocolate and a sweet finish. The flavour is of chocolate, roasted malts, mild coffee and caramel. This could possibly be the most creamy canned nitro beer I have had. The alcohol content comes in at 5%. I find many nitro beers have a muted flavour although this one has quite a bit of flavour and I quite enjoyed it.
Commercial Description: Odyssey is infused with nitrogen gas, creating cascading clouds of tiny bubbles that give way to thick dense foam. Warm roast flavours with accents of nuts and dark chocolate.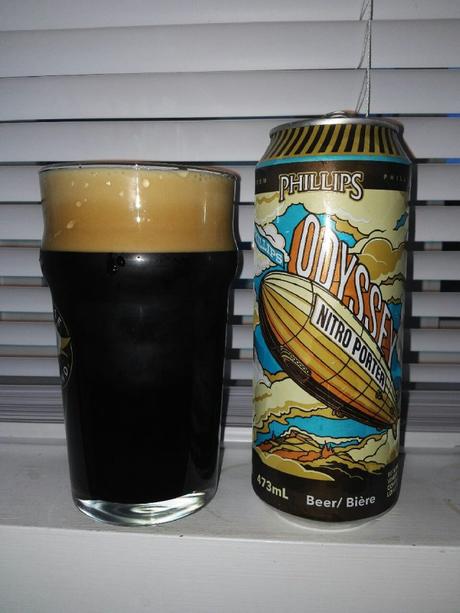 About Mike
I am an avid outdoors man and hobby photographer who loves to spend as much time as possible exploring the beautiful backcountry of the Province of British Columbia and everywhere else! When not exploring nature though I am exploring Craft and Micro Brew beer locally and from around the world. If you love beer like I do please come on a journey for your taste buds. Who knows you just might find your next favorite beer!
This entry was posted in Porter and tagged bc, canada, caramel, chocolate, coffee, craft beer, creamy, mild coffee, nitro beer, nitro porter, phillips brewing, roasted malt, roasted malts, vancouver island, victoria. Bookmark the permalink.