Scribbling. All it takes is a margin of an agenda paper or the back of an envelope. I don't remember when I started doing it—I've been writing my own blend of fiction, facts, and philosophy since I was in elementary school—but I would find a relatively clean piece of paper, fold it up, and put it in my pocket. I've carried a pen around with me for decades. Why? You never know when an idea might strike. There's nothing like the discovery of a new idea. Lifelong learning is like that. So it was when I was reading Lemony Snicket's Series of Unfortunate Events to my daughter that I learned about commonplace books. A commonplace book is a notebook where you jot all kinds of things down and you know where they are, unlike that piece of paper in my pocket that long ago started to rip apart at the folds, the ink becoming illegible as the paper grew softer and more pliable. A commonplace book seemed like a great idea.
This all came back to me when a friend send me a story on zibaldones. I'd never read the word before. A zibaldone, according to the story by Cara Giaimo on Atlas Obscura, is an Italian commonplace book. They used to be part of every thinking person's accoutrements. A blank book where you could write down anything of importance. Giaimo suggests that the internet has taken the place of the zibaldone—blogs, Facebook, Twitter, Pinterest—we're spoiled for choice where to put our thoughts. I still carry a commonplace book, however. Too many, in fact. Next to my writing chair rests a stack of notebooks. There's one for each non-fiction book I've written, whether published or not. There are several filled with fiction. Some with poetry. My most recent zibaldones are Moleskines, which I purchased—as many as I could afford—when Borders sadly went out of business. Ideas. They just keep coming.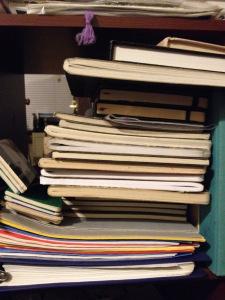 Some of my notebooks.
Perhaps the greatest benefit of the zibaldone is that, if one survives, an historian gets a glimpse at what someone who was not famous saw. Observations about the world scribbled down. The most proficient of scribblers organized their commonplace books in advance. As for me, I still scribble things on scraps of paper. I carry a notebook and pen at all times, but sometimes an idea is so slippery I don't have time to pull a formal zibaldone from my pocket. I tape scrapes of paper into my notebooks. Right next to new words I've learned. Somewhere among today's scribbles you'll find the word zibaldone along with the hope that some day some of this might be significant.