3 Flares
3 Flares
×
New to little Indiana? Subscribe for free to my RSS feed. Thanks for stopping by!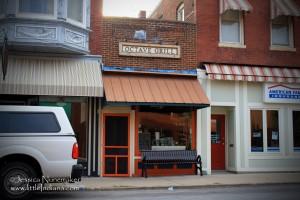 Octave Grill: Chesterton, Indiana
There are burger places  and then there are burger places that your husband still talk about days later–like Octave Grill in Chesterton, Indiana.
Octave Grill may be the new kid on the block, but with burgers made from 6 ounces of Tallgrass beef, these are good. Real good.
Chesterton, Indiana: Octave Grill
Browse over the menu but don't forget to check out the chalkboard wall in the back. There's a large list of changing specials at this Porter County favorite. Octave Grill even has a special monthly burger and unique drink and dessert options.
The boys were super quick to decide! Grilled Cheese for Kid #2 and the Grilled Ham and Cheese Sammy for Kid #1.
But hubs and I took a bit longer. These aren't your typical burgers–they even use Indiana cheese from Fair Oaks Farms in Fair Oaks, Indiana! Fair Oaks Farms Havarti, Swiss, Smoked Gouda, and more. Yum!
Indiana Town Restaurant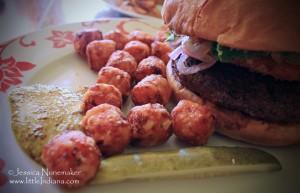 Octave Grill: Chesterton, Indiana Tallgrass Beef Burgers
I couldn't decide between The Holy Trinity, a Tallgrass burger stuffed  with peppers, onions, celery, and blue cheese and topped with a brushing of lemon aioli or the Fried Cheese Burger. Breaded and fried Fair Oaks Farms Havarti (one of my favorite cheeses) with roasted red peppers, grilled onions, olive tapenade, and lemon aioli.
Hubs claimed dibs on the Chanute, grilled crimini mushrooms and bacon topped with habanero Havarti–and blue cheese! I opted for the Fried Cheese burger. It had me at "olive tapenade."
We switched up our sides. Instead of french fries, hubs opted for the Buffalo Fries–fresh cut fries tossed with buffalo sauce and blue cheese. I had no idea that I even liked blue cheese…but I traded him my sweet potato tots with whole grain mustard for dipping (and you know how much I love sweet potatoes)!
Go There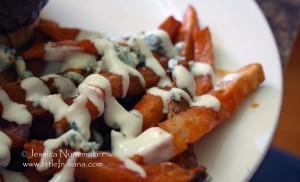 Octave Grill: Chesterton, Indiana
We absolutely loved every single bite we took at this Indiana town restaurant! Kid #1 proclaimed his Ham and Cheese Sammy the best he's ever had. That kid loves ham–so that says something!
I switched hubs for a pear hard cider while he took my Bloody Mary. Great drink choices, awesome food, and small town atmosphere. This is little Indiana.
Find pictures in Indiana on my Flickr photostream or on the new little Indiana Tumblr blog.
Just don't forget to tell 'em that  little Indiana sent you!
Octave Grill
137 South Calumet Road
Chesterton, Indiana 46304
219.395.8494

View Larger Map
Don't miss a moment. Subscribe to little Indiana and receive instant updates to stay on top of everything "little."
little Indiana: Where to Stay, Play, and Eat in Small Towns in Indiana. Discovering Indiana's best small towns! Now get little Indiana on your Kindle.
Targeted. Relevant. Affordable! little Indiana advertising.