At this point, most people you know are on Facebook, probably Pinterest too.  I bet you've got lots of friends on Instagram and maybe even Twitter for their business.  But what about your business?
Does it seem like every time you login to Facebook you get sidetracked by pictures of food and political propaganda spouted by your 'friends'?  Do you hear crickets on your Facebook Business Page?  Do you even post things to your Facebook page?
Obviously I'm leading the conversation here…I expect your answer to be  "Yes," but only because I hear this all the time.  People are pretty comfortable using some social media personally but when it comes to their business it's a massive question mark.

Especially when you're a small or sole proprietor business, it's easy to get tossed around in the sea of blog posts, emails and books about what you should do for your business.  Sometimes you just need some personalized attention – a place where you can ask questions pertinent to YOUR business.
Questions like "which social channels should I be on?" and "should I post on a weekend?" or "do I write in 1st or 3rd person?"
I designed a workshop just for this need and I'm leading one next Wednesday, September 19th in Santa Ana at 6pm.  Part brass tacks, part Q&A – if you have questions I have answers.  It's designed to be a small group so that everyone gets what they need + it's a good opportunity to network with other small business owners.  You never know who you'll meet (but it's safe to assume they're Clever like you).  And please DO share the love & send this to your biz savvy friends.
If you are local, I hope you'll join us!  If not, we offer social media training & consulting via phone or web. And because I love that you read Clever, I'm happy to answer your most burning question for FREE – just send me a note through our Contact form!  Looking forward to meeting & tweeting you soon.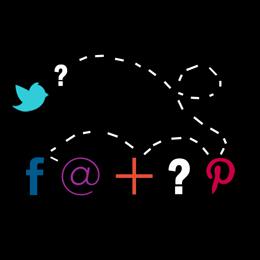 Navigating Social Media
Wednesday, September 19th
6-8:30 pm
Road Less Traveled Store, Santa Ana, CA
Register Here