It's been a while since I've done an obsession post, so I really hope you like this one! For over a week now, I've been telling my friends about these super cute n' comfy sweatshirts I saw on the Romwe website. Romwe is an online clothing store where you can find the latest and greatest street wear at affordable prices with free shipping worldwide!
Sweatshirts are definitely the norm this Fall and they look great over those coloured skinnies or ripped denim jeans. Below are 7 of my picks for all the 7 days in a week according to 7 different "style motions" (=style emotions).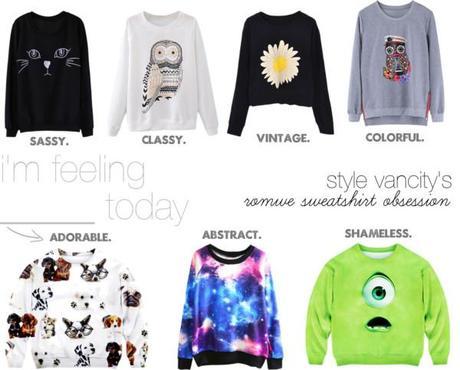 Romwe Sweatshirt Obsession by stylevancity featuring a green sweatshirt
I'm feeling SASSY - Cat Face Embroidery Pullover - $31.73 CAD  I'm feeling CLASSY - Owl Print Rhinestone White Hoodie - $23.27 CAD I'm feeling VINTAGE - Daisy Print Black Pullover - $19.55 CAD I'm feeling COLORFUL - Owl Printed Oversized Grey Pullover - $31.73 CAD I'm feeling ADORABLE - Doggie Print White Sweatshirt - $42.31 CAD I'm feeling ABSTRACT - Tie-dye Galaxy Sweatshirt - $23.27 CAD I'm feeling SHAMELESS - Green Monster Print Sweatshirt - $42.31 CAD
So, how are YOU feeling today?