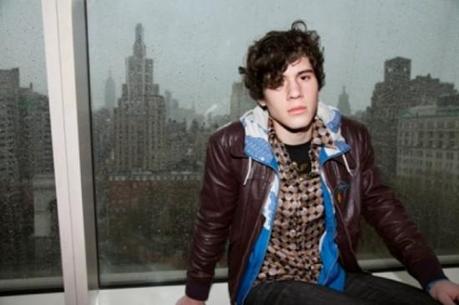 HEART – Oberhofer
Brooklyn-via-Washington musician Brad Oberhofer is finally releasing his first full-legth album,
Time Capsules II
, this March 27 via Glassnote Records (
Phoenix
,
Mumford & Sons
,
Givers
).
Oberhofer's
 (@oberhofermusic) stellar 2009 debut EP was extremely well received, garnering the musician some well deserved attention from practically every blog in existence, including ours (listen to some of the release 
here
). Unlike that youthful debut, 
Time Capsules II
 looks to be the work of a more mature songwriter who knows which of his quirks to hold tightly to. Last week, 
Oberhofer
 released the first track from
Time Capsules II
, "HEART", a pop rock ballad that focuses on love lost.
Oberhofer
 is heading on tour this March with stops along most of the East and West coasts, and for the first time, Brad and his band will be playing the wild desert festival known as Coachella. All tour dates below.
3/06 — Black Cat Backstage — Washington, DC *#
3/07 — Savannah Stopover Music Festival — Savannah, GA $
3/08 — Drunken Unicorn — Atlanta, GA *#
3/10 — 35 Denton Festival — Denton, TX
3/11 — Fitzgerald's — Houston, TX * ^
3/18 — Low Key Arts — Hot Springs, AR *
3/20 — Johnny Brenda's — Philadelphia, PA *
3/21 — Bowery Ballroom — New York, NY *
3/22 — Brighton Music Hall — Allston, MA *
3/23 — Casa Del Popolo — Montreal, QC *
3/24 — Cafe Dekcuf — Ottawa, ON *
3/25 — The Drake Hotel — Toronto, ON *
3/27 — Lincoln Hall — Chicago, IL *
3/28 — Taylor University Student Union — Upland, IN *
3/29 — Mission Creek Festival — Iowa City, IA
3/30 — Cactus Club — Milwaukee, WI *
3/31 — Maintenance Shop — Ames, IA *
4/02 — 7th Street Entry — Minneapolis, MN *
4/04 — A Club — Spokane, WA *
4/05 — Sunset Tavern — Seattle, WA *
4/06 — The Biltmore Cabaret — Vancouver, BC *
4/07 — Jinx Arts Space — Bellingham, WA *
4/08 — Squeak & Squeak Music Festival — Tacoma, WA
4/09 — Mississippi Studios — Portland, OR *
4/11 — Rickshaw Stop — San Francisco, CA *
4/15 — Coachella — Indio, CA
4/22 — Coachella — Indio, CA
4/25 — Hi Dive — Denver, CO
4/26 — Replay Lounge — Lawrence, KS
4/27 — The Luminary Center for the Arts — St. Louis, MO
4/28 — MOTR Pub — Cincinnati, OH
4/29 — The Basement — Columbus, OH
4/30 — Beachland Tavern — Cleveland, OH
5/01 — Andy Warhol Museum — Pittsburgh, PA
> * with Pond
> # with DIVE
> $ with The War On Drugs, Grimes, Caveman, The Love Language & Prince Rama
> ^ with A Place To Bury Strangers