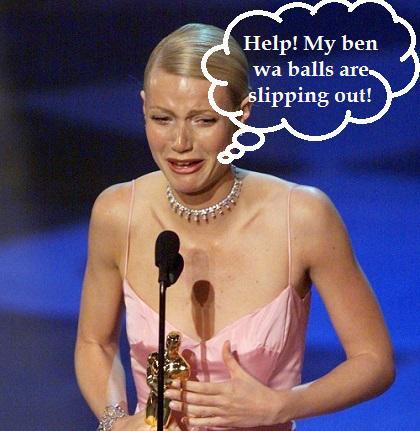 Daniel Nussbaum reports for Breitbart, May 9, 2016, that after having promoted vaginal steam cleaning, a $200 sex-drive boosting Moon Dust Smoothie, and a $46,000 mahjong set, in the first-ever sex-themed edition of her Goop newsletter, actress and Obama-supporter and -fundraiser Gwyneth Paltrow is hawking a $15,000 24-carat gold dildo.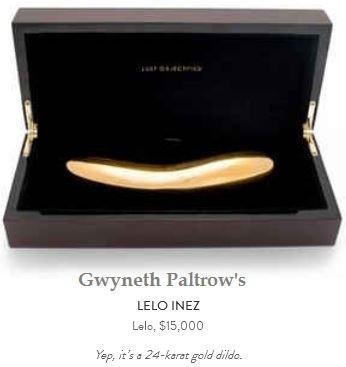 The "Sex Issue" features articles such as "I Yam What I Eat: Is Lube Toxic?," "There's an App For That: The Pelvic Floor Trainer," and "
Not So Basic Sex-Toys
" that hawks the $15,000 Lelo Inez gold dildo, as well as:
$535 Agent Provocateur black-and-gold cat whip.
$395 Kiki de Montparnasse "discreet vibrating necklace that turns into nipple clamps".
A mysterious thingie called Crave Duet 8GB Lux, with a gold handle that can be engraved, for $219.
A Dua partner-controlled G-spot clitoral vibrator for $156.
Another mysterious thingie called Naturotica Wellness Mandingo that "may not be high tech, but the bloodstone wand" heals "as it stimulates," for $155.
A waterproof pink vibrator "especially great in the bathtub," for $149.
Yet another mysterious thingie called Lelo Tor 2 that promises to "sit snug for both his and her pleasure," for $139.
The Big Butt Book 3D, for $59.95.
Black glass ben wa balls that can be heated up or cooled down, for only $19.95-$24.95!
Does this woman live on the same planet as the rest of us?
~Eowyn