Steve:
Note to our readers:

Steve's post on this subject, which he published earlier today, contained a link to a site that carries a Trojan virus. For that reason, I've replaced Steve's post with this reblog from a safe site.

See also Trail Dust's previous post on the same subject, "President Lucifer sides with Iran."

~Dr. Eowyn

Originally posted on Consortium of Defense Analysts: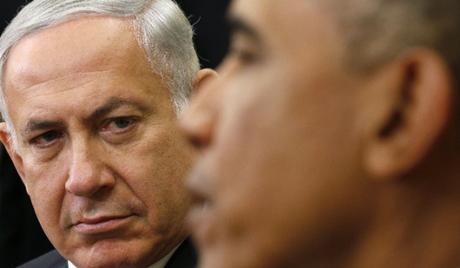 As Israeli Prime Minister Benjamin Netanyahu is en route to Washington to an address to Congress on Tuesday aimed at derailing Obama's bid for a diplomatic deal with Tehran, a Kuwaiti newspaper claims that last year President Barack Obama threatened to shoot down Israeli jets.
Congressional Republicans, specifically House Speaker John Boehner had invited Netanyahu, whose visit was coordinated without the Obama administration's knowledge.
Mark Langfan reports for Israel National News, March 1, 2015 that Ma'an, a Bethlehem-based news agency, has cited a report by Kuwaiti newspaper Al-Jarida yesterday that Obama thwarted an Israeli military attack against Iran's nuclear facilities in 2014 by threatening to shoot down Israeli jets before they could reach their targets in Iran. Reportedly, Obama's threat forced Israeli Prime Minister Benjamin Netanyahu to abort the attack.
According to Al-Jarida, the Netanyahu government took the decision to strike Iran some time in 2014 soon after…
View original 428 more words