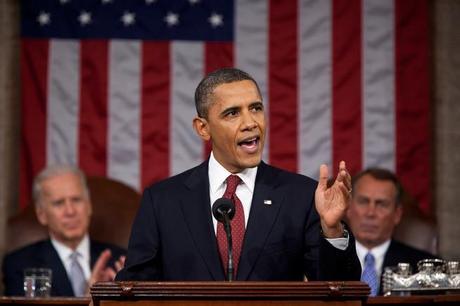 As he has done previously in talking about the state of America, President Obama had several things to say about energy in Tuesday night's speech (transcript here). For one, due to a surge in domestic oil production, imports of foreign oil have fallen to the lowest levels in 16 years and "American oil production is the highest that it's been in eight years."
Though there wasn't much new in terms of policy, Obama did lay out a bold goal for clean energy, saying that the U.S. can get 80% of its electricity from clean sources by 2035. This includes natural gas, of course, which is cleaner than coal but not a renewable energy source.
The idea of domestic energy and national security was mentioned a few times, a recurring theme recently. Obama specifically envisioned "A future where we're in control of our own energy, and our security and prosperity aren't so tied to unstable parts of the world." While biofuels were not mentioned by name, the president did acknowledge that with only 2% of the world's oil reserves, "This country needs an all-out, all-of-the-above strategy that develops every available source of American energy."
As is the tradition in presidential addresses, Obama cited working class individuals who were in the audience. In particular, he mentioned Bryan Ritterby, a formerly out-of-work furniture maker. Ritterby was hired at Energetx, a wind turbine manufacturer in Michigan.
Obama also argued that the country needs to "double-down on a clean energy industry" by passing tax credits. Furthermore, he called for a clean energy standard to spur innovation. Calling out Congress, he directed the "administration to allow the development of clean energy on enough public land to power 3 million homes."Fortunately, the president did not overlook the low-hanging fruit of efficiency and conservation. He proposed to "Help manufacturers eliminate energy waste in their factories and give businesses incentives to upgrade their buildings." Estimates from these improvements come in at $100 billion in savings on energy bills. This is in conjunction with "less pollution, more manufacturing, [and] more jobs for construction workers who need them."[Image]