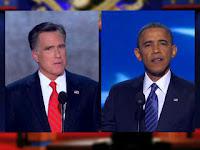 President Barack Obama, by almost all accounts, lost last night's presidential debate--and it was not because of an outstanding performance by Republican challenger Mitt Romney. The former Massachusetts governor did little more than unleash an avalanche of misstatements, contradictions and blatant falsehoods--and Obama let him get away with many of them.
But that's not why the president lost the debate. The reason can be traced to a statement from early January 2009, just a couple of weeks before Obama took office. That's when ABC's George Stephanopoulos asked the president-elect about the possible appointment of a special prosecutor to investigate apparent crimes of the George W. Bush administration. Obama replied by saying that he was inclined to "look forward as opposed to looking backwards," indicating he was willing to give Bush criminals a free pass.
In so many words, Obama said that his administration was not going to be concerned with enforcing the law. It wasn't going to exert much effort to ensure that citizens from all walks of life play by the rules. Obama appeared to take that approach into last night's debate, and it's the reason he got soundly defeated.
Romney made it clear in the debate's first few minutes that he was not going to follow the ground rules. When Romney started to respond to one of Obama's early points, moderator Jim Lehrer tried to remind him that he did not have time under the rules for a rebuttal. Romney kept right on talking, Lehrer did not take control of the situation, and neither did Obama.
The leader of the free world could have said something like: "Jim, all parties to this debate agreed in advance to the ground rules, and it appears that two of us--you and I--are willing to follow them. Governor Romney, on the other hand, is determined to ignore the rules and do as he pleases. The viewers out there deserve better than that; you and I deserve better than that. Everyday Americans are expected to obey rules, big and small, in all aspects of their lives. Governor Romney should do the same."
Obama, in his first term as president, has little experience with making sure rules are enforced. So it should be no surprise that he failed on that front last night. It gave Romney a debate victory he did not deserve. And it probably tightened a race that Obama should have had wrapped up long ago.
If Obama had given his OK for the U.S. Department of Justice to unmask Bush-era criminals, Democrats probably would have held the House in 2010, giving Obama's policies more support and putting the country on the road to a stronger recovery.
Instead, the president signaled that he would be timid on fundamental matters of right and wrong, and he took the same approach in last night's debate. Because of that, the outcome of November's election is very much in doubt.