Looks like the Obama administration-engineered "Summer of Chaos" has begun.
In June, the Twitter account of Deray McKesson, a leader of BlackLivesMatter, was hacked, resulting in his messages with two fellow Democrat activists being posted by a twitterer named The Saint. (See "Hacked messages of #BlackLivesMatter leader reveal Obama admin's plan for 'summer of chaos' and martial law")
In those messages, McKesson spoke of meeting with U.S. Attorney General Loretta Lynch to mobilize and organize thousands of people to disrupt the upcoming Republican and Democratic National Conventions in a "summer of chaos," the intent of which is to provide Obama with the excuse to impose martial law, suspend the November presidential elections, thereby giving him a third term of office — something that as many as 67% of Democrats desire, according to a recent poll. (See "Majority of Democrats want Obama for a third term")
Last night's orgy of violence in Dallas, Texas, in which 5 police officers were killed and more were wounded, is the first strike in the Obama-engineered Summer of Chaos.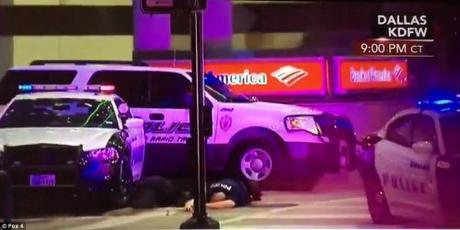 Officers down in black race war, Dallas, July 7, 2016.
Here are some news links on the Dallas mayhem from Drudge Report:
'BLACK POWER GROUP' CLAIMS RESPONSIBILITY
WARNS OF MORE ASSASSINATIONS
5 COPS SHOT DEAD IN DALLAS
SUSPECT 'WANTED TO KILL WHITE PEOPLE'
'THE END IS COMING'
Gunman Micah X. Johnson…
Ex-Army Reservist…
Probed as hate crime…
Convenience store looted after attack…
Police taunted; Slaughter of 'pigs'…
Footage shows agitators dancing and mocking…
Calls For More Cop-Killing…
Many Parts Of City Off-Limits…
KTVT-LIVE…
Tighten your seatbelt, keep your family safe, arm yourself, and pray for America.
See also:
#BlackLivesMatter is a War on Police leading to complete breakdown of social order

Black activist threatens riots if Trump wins

#BlackLivesMatter is not about racism

'Arab Spring' in America: NAACP joins Soros-funded coalition for massive protests in D.C.

List of persons/groups paid by Soros to protest in Ferguson & Selma

Billionaire George Soros spent $33M bankrolling Ferguson demonstrators to create 'echo chamber' and drive national protests

Black U. of West Georgia students advocate white genocide at Harvard debate

Black mob in Chicago attacks woman and children in car for being white

78% increase in homicides in Baltimore since Freddie Gray riots

NATIONWIDE crime spike after Ferguson-Baltimore riots
H/t FOTM's MomOfIV and William Shanley
~Eowyn