Perhaps the next sector for government bail out will be ski resorts, with mountains that are too tall to fail.  How about the "Affordable Skiing Act"? –TD 
THE BLOG
Report: Obama Daughters Skiing in Sun Valley, Idaho
9:25 AM, MAR 29, 2013 • BY 
DANIEL HALPER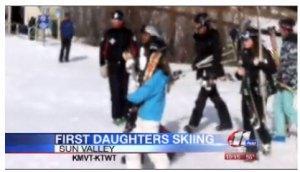 "Sun Valley is known to be a getaway for celebrities and the First Family is no different," reports KMVT.
"In an exclusive photo obtained by Idaho's First News, you can see the First Daughters, Malia and Sasha Obama skiing at River Run Thursday. The Sun Valley Ski Patrol confirms the girls were enjoying the wonders of the mountain. We also received unconfirmed reports the daughters were staying at Thunder Spring in Sun Valley."
Earlier, it was reported that the Obama daughters were at a resort in the Bahamas for Spring Break.
Both reports could be true: The Obama daughters could have spent the first half of the week in the Bahamas, before leaving the sun for the Idaho snow.
Meanwhile, the White House remains closed to the public, as the Secret Service is said to lack the funds necessary to keep the building open to all.