As most of us will know preparing for a new baby can be expensive.There is so much to buy.I looked online for companies that offered great value for money and came across http://www.babythings4u.co.uk/
I fell in love with their product the Obaby B is for Bear Vibrating Bouncer in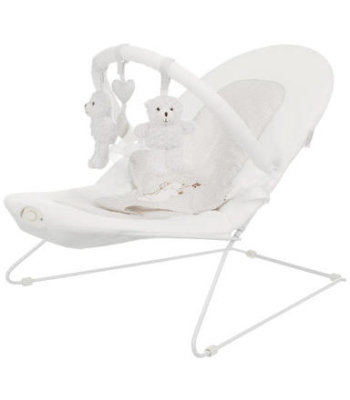 white.I was once again lucky enough to be offered the chance to review this item.
The B is for Bear vibrating bouncer will help soothe baby to sleep and with the seat is padded for maximum comfort and the soft padded play bar with removable toys will entertain my little one.
The bouncer is very lightweight and sturdy, making it easy to transport.  The bouncer has a vibating function to gently relax and soothe baby.
MAIN KEY FEATURES
Easy to use single button vibrating function
Aids your baby's sleep from the moment they come home until they can sit up
Padded seat for maximum comfort
Soft padded play bar with removable toys
Sturdy lightweight frame
So for all your baby needs keep these in mind.The bouncers retail at £29.99 they also offer a price match promise so why shop anywhere else?
They accept Paypal too.
So pop on over today and grab your self a bargin http://www.babythings4u.co.uk/