0 Flares
0 Flares
×
New to little Indiana? Subscribe for free to my RSS feed. Thanks for stopping by!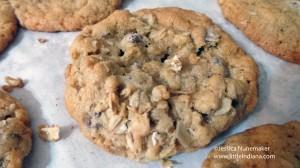 Oatmeal Chocolate Chip Cookies
Today it's all about this yummy Oatmeal Chocolate Chip Cookies recipe.
I'm always up to try out a new cookie recipe and our boys are always ready to taste test! I love the old fashioned oats in this cookie recipe–they make it a slightly chunky cookie.
No one could get enough of these. In fact, I saw hubs sneaking one out the door at the crack of dawn so, yes, these chocolate chip cookies are apparently rather good!
Oatmeal Chocolate Chip Cookies Recipe
Print Oatmeal Chocolate Chip Cookies Recipe
Rating: 51
Prep Time: 10 minutes
Cook Time: 10 minutes
Total Time: 20 minutes
Yield: 4 Dozen
From Taste of Home Comfort Food 2009.
Ingredients
1 Cup Butter, Softened
1 Cup Sugar
1 Cup Brown Sugar, Packed
2 Eggs
1 teaspoon Vanilla Extract
2 Cups Flour
1 teaspoon Baking Soda
1/2 teaspoon Baking Powder
1/2 teaspoon Salt
2 Cups Old Fashioned Oats
2 Cups (12 ounces) Semi-Sweet Chocolate Chips
Instructions
Cream Butter and Sugars in large bowl of electric mixer.
Beat in Eggs and Vanilla Extract.
Combine Flour, Baking Soda, Baking Powder, and Salt. Add to creamed mixture.
Mix well.
Stir in Oats and Chocolate Chips.
Drop rounded tablespoonfuls of dough 2" apart on ungreased (I used parchment paper lined) cookie sheets.
Bake 350* for 10 minutes or until golden brown.
Schema/Recipe SEO Data Markup by ZipList Recipe Plugin2.0
http://littleindiana.com/2013/05/oatmeal-chocolate-chip-cookies-recipe/
Photos are the Property of little Indiana. Do Not Use Without Permission.
Find pictures in Indiana on my Flickr photostream or on the new little Indiana Tumblr blog.
Just don't forget to tell 'em that  little Indiana sent you!
Don't miss a moment. Subscribe to little Indiana and receive instant updates to stay on top of everything "little."
little Indiana: Where to Stay, Play, and Eat in Small Towns in Indiana. Discovering Indiana's best small towns! Now get little Indiana on your Kindle.
Targeted. Relevant. Affordable! little Indiana advertising.