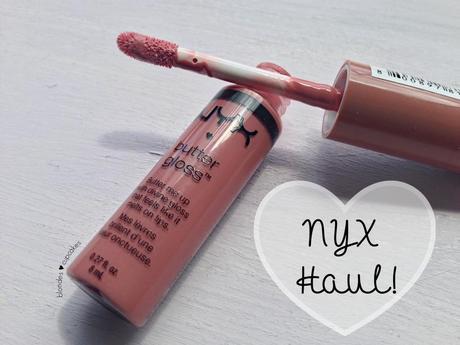 Like every girl, I feel a flutter in my heart when I hear new make up brands are coming to Ireland. Especially cult American make up brands. So when NYX Cosmetics launched in Ireland… my heart definitely skipped a beat! I was kindly sent out a few products to try out, a butter gloss, eyeshadow palette, blush, jumbo eye and lip pencils and a skinny eye/brow pencil to review.
Right away the NYX Butter Gloss stole my heart. It smells gorgeous and is a creamy, buttery tube of yumminess. I got the Tiramisu shade, and it's the perfect day-time color. Subtle and moisturising. I literally use it every day. Lasts about three hours or less if you're eating or drinking and costs about €6.49. Very decent I'll be buying these in every color.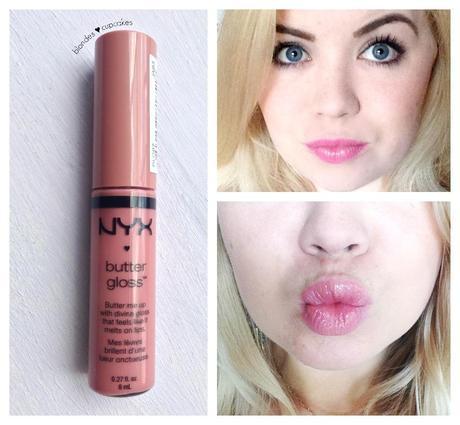 Next up is the NYX Love In Florence eyeshadow palette in XOXO,Mona. six different shades of matte and shimmery purples. There was a time when I wouldn't have touched purple eyeshadow with a barge pole… but now that I've reached the ripe old age of 24 I feel I can be trusted to experiment with purple without looking like a clown. The powders are easily blendable, but slightly flakey. I'd recommend wetting the brush before using these shadows to get the maximum color pop! This palette costs  €8.49.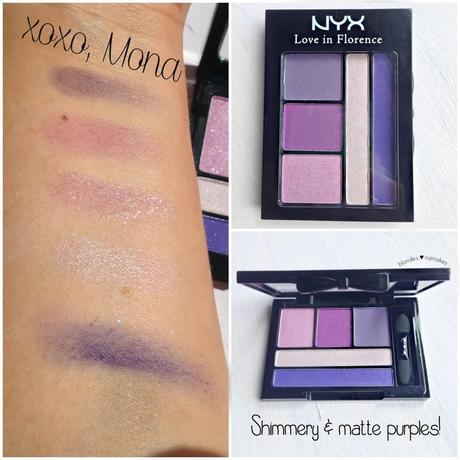 I also got some cool chunky jumbo pencils, one a lip liner and one an eye liner. I LOVE the NYX Jumbo Eye Pencil, it's super fun to use with none of those evil sharp edges you can get from sharpening a timber eye pencil. I have shade 602 Dark Brown, it's very dark and creamy. You could also use it as an eyeshadow, they glide on and doesn't fade. The NYX Jumbo Lip Pencil is also pretty cool. You're not going to get any serious precision with this product… it's fairly giant. But it works great for ombré lips. Dark on the outside, lighter inside. Or you can just use it as a lipstick as it's creamy and moisturising, and shade 720 Honey Nectar is beautiful. Pick them up for €5.49. The eyeliner pencil was a slightly bright shade (Metallic turquoise 908 Seafoam Green) for everyday use but I attempted it a few times, and it didn't look too bad.  It's creamy and and long-lasting, you can pick one up for €4.99.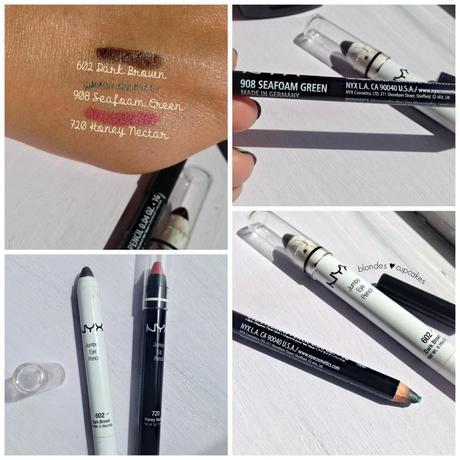 Finally I have the NYX Powder Blush, in 04 Silky Rose. It's sheer and glides on incredibly smooth to give a healthy glow, it lasted throughout the day without fading which is pretty good going especially in this weather! I wasn't particularly blown away by this blush, it's good but nothing too amazing! You can pick one up for €7.99.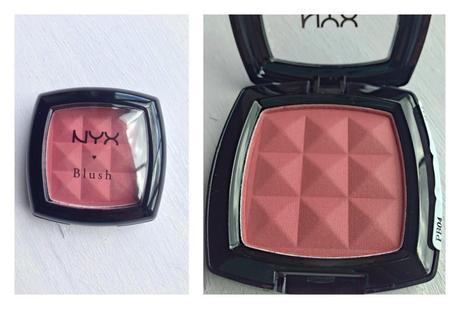 I have to say, I loves NYX Cosmetics. The packaging is gorgeous… just look at that little heart on every product, the bow on the eyeshadow lid… SO CUTE! I was really impressed with how luxurious these products felt for the price, they can easily stand up to their more expensive competitors. You can pick them up in pharmacies nationwide if you want to try some out yourself, I plan on picking up a few more bits myself.
Have you tried out any NYX Cosmetics? What did you think?
x