I am not a fan of experimenting with lipsticks. Actually I like bold colour in lipsticks, but of course I won't be able to wear it every day to office. So, a nude lippy is a must for me. But a nude lippy at times can be a bit boring. So, I thought of why not try with the shade nude but with undertone of some other colors.
And recently Nykaa came up with lipsticks shades of their own. And there was a shade which suddenly become a cult favorite among all. So, I thought of why not begin with that shade only. Anyways I was searching for a nude lippy with a twist and this one fitted the bill perfectly. So, let's read out how Nykaa So Matte Lipstick Taupe Thrill fared on my NC 42 skin tone.
Product Claims:
You've got a new favorite matte lipstick! The creamy, long-lasting texture gives you pout-worthy lips in one stroke. It effortlessly glides on your lips, giving you a gorgeous soft matte finish. Pucker up and party with our delectable matte lipstick. Muah!
Price: Rs. 399 for 4.2 Grams
Shelf Life : 24 months from the date of packaging
Directions to use : Scrub off your lips with tiny sugar granules or with a baby brush. Rinse it thoroughly with water. Dry your lips. Apply a layer of on the lips. Wipe it with a tissue paper. You can re-apply the lipstick to build up the colour.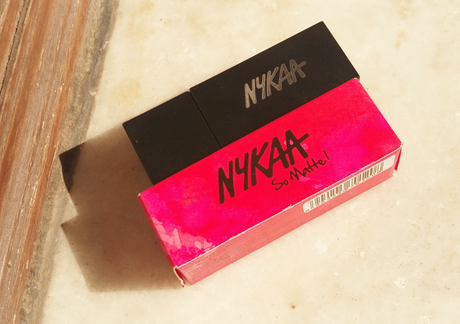 My Take on the product
Packaging/ Availability: Nykaa So Matte Lipstick Taupe Thrill comes in an extremely classy and attractive packaging. It comes in a black bullet which looks very classy. But the USP with the packaging is the magnetic bullet which gives a very attractive look to the entire packaging. You need to twist the bullet to get the product out. It is medium in size and light weight and thus perfect to fit inside the pocket.
Right now the availability of these Nykaa Matte lipsticks is available to the Nykaa website only. But they deliver to many locations with flexible payment options.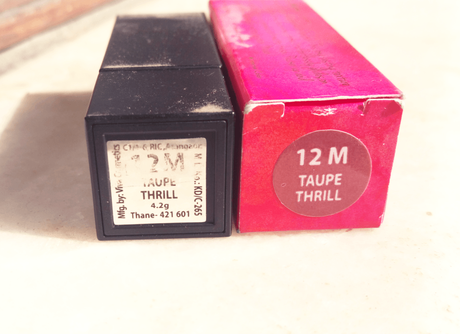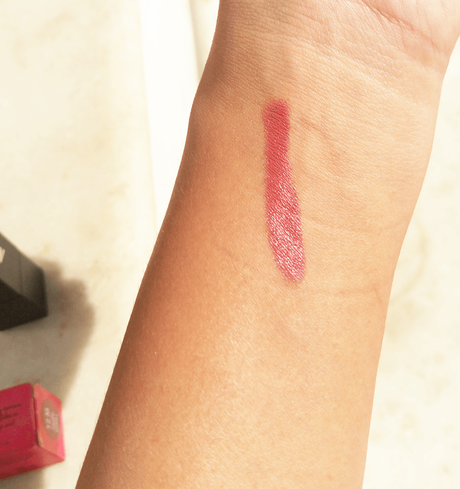 Texture: The texture of Nykaa So Matte Lipstick Taupe Thrill is pretty impressive especially for dry lip girls like me. The lipstick is very comfortable and light weight on lips. You won't feel the heaviness or any sticky feeling on lips. It is very comfortable to apply even when you are on the go.
Finish: Nykaa So Matte Lipstick Taupe Thrill sets into a creamy matte finish. Yes it is not 100% matte if that is what you are expecting. But I have no complaints because you can always make a lipstick matte just by setting it with tissue paper. And anyways dry matte lipsticks are excessively dry on lips. This falls under the category of creamy matte which is very comfortable on lips.
Pigmentation: The shade, Taupe Thrill is as pretty as it's name. The shade falls under the category of nude lipstick which has very light pink brown undertones. The shade has not even a hint of shimmer which makes it perfect day and night wear both.
Plus, the shade is so versatile that it will suit a number of skin tones. Many Indian skin tones right from dusky to fairer one can rock this shade effortlessly.
Rating : 5/5
Final Recommendation: Nykaa So Matte Lipstick Taupe Thrill are fab. This is my first choice these days. It looks fab with daily makeup as well as for the night or party glam. Such a versatile lip shade.