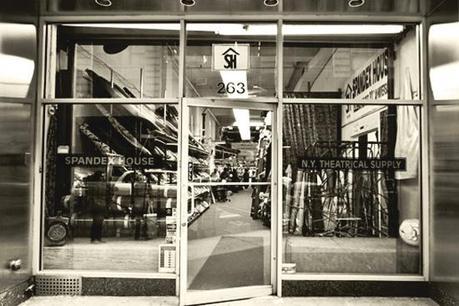 I have lots to update you with about my trip to New York. Lots. Pictures and information from Blogshop, my strolling around the city, and what famous person I met up with the last day I was there. But first, let's talk my new favorite store – Spandex House.
After my last trip to New York, I posted a recap about the fabric stores I visited as well as the ones that were suggested to me. For this trip, I more or less went the same stores and instead of giving you a recap with only minor changes and edits, I am going to give you one major update plus tips.
Write down 263 West 38th Street. Did you? Did you jot it down? Good because this the address to Spandex House. After shopping the store with Oona and Christine, I wanted to go back and spend some more time among the bolts of spandex infused fabrics. I knew treasures were to be found – I just had to find the chest. And find them I did. First of all, do you know there is a second floor? Those New Yorkers try to trick out-of-towners like myself with the a mezzanine in between the first and second floor. But keep climbing the stairs and you'll get your lucky charms – stretch lace, stretch velvet, stretch satin, and power mesh.
Amy, listen here, 15 and 40 denier tricot in LOTS of colors for $2.50 a yard. That's 80% less than the price of Bra Makers Supply. And good quality stretch lace, not the cheap stuff. Lace that even after a few tugs, was not damaged, which meant it would be strong enough to hold up in machine hand washing. And stretch satin. Oh stretch satin, was I so pleased to find you. A lot of the better laces I come across have little or no stretch and to make a bra with a non-stretch fabric requires that the band have stretch. Powermesh is an option but stretch satin is a much better and prettier choice. Lastly, tucked way in the back was an entire section devoted to power mesh in all colors, all weights, and all qualities. The biggest plus? Every fabric was under $10 a yard. That's a bra makers dream.