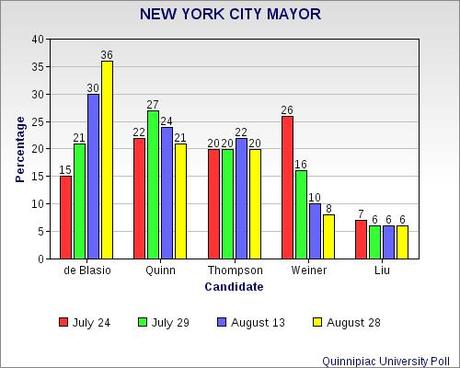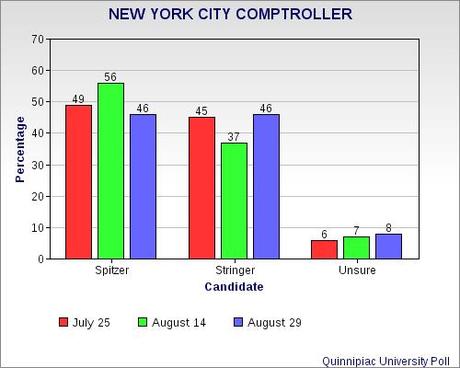 There's just a little more than a week to go before the Democratic primary in New York City, and the races for mayor and for comptroller are still changing, according to the latest Quinnipiac University Poll (done between August 22nd and 27th of 602 likely primary voters -- with a margin of error of 4 points).
In the mayor's race, Bill de Blasio has once again extended his lead while his major opponents (Quinn and Thompson) seem stuck in the low twenties. Mr. de Blasio now has 36% of the likely vote, and with the 4 point margin of error, could actually reach the 40% level (which would give him the nomination without a run-off). But even if he does have to have a run-off with Quinn or Thompson, the Quinnipiac poll shows he would easily defeat either one -- 59% to 30% over Quinn, and 52% to 36% over Thompson.
But while a clear favorite is emerging in the mayor's race, the exact opposite is happening in the comptroller's race. It has devolved into a dead heat between Eliot Spitzer and Scott Stringer. Just two weeks ago, Spitzer had a 19 point lead and it looked like he was heading to a fairly easy victory. But all of that lead has disappeared, and the two candidates are now in a tie with 46% each. It looks like the 8% of undecided voters will decide the winner.
Both of these races have been very interesting to follow, and I can't wait to see how they come out on September 8th.
NOTE -- Anthony Weiner has now dropped down into single digits (8%) in the mayor's race. It wouldn't surprise me to see him get even less than that on election day (and possibly even lose to Mr. Liu, who has trailed him since he entered the race).