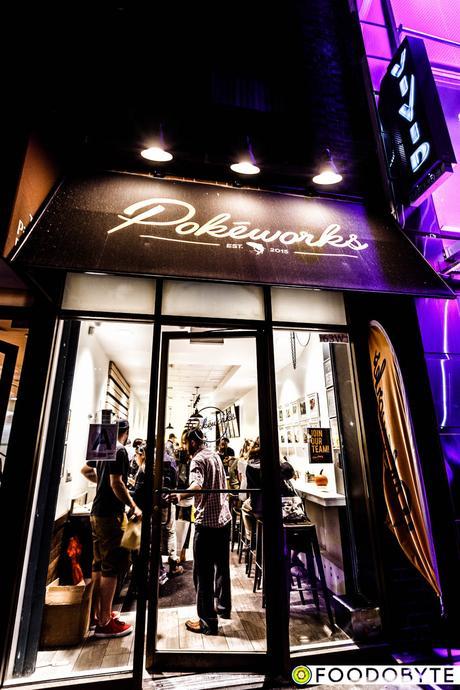 Poké! Nope, it's not short for Pokémon. No magikarps here, just Ahi Tuna and other seafood that don't evolve into Gyarados. Poké is a raw marinated fish salad – a fitting name since the word poké is the Hawaiian verb for "to slice or cut." The traditional seasonings are drawn from Japanese and other Asian cuisines. Before the poké storm hit Vancouver, I first heard of its existence while browsing Facebook, where there was a shared video of "Pokéworks" in NYC. Fast forward a year or so, hippoCHAN and I finally got to try it after her late classes.
The restaurant was a tight squeeze inside, leaving many customers forming a line out the door. It's kinda set up like a Subway, where you can order a bowl, salad or burrito (aka Japanese sub) and customize the toppings. There are also set recipes for those who can't make up their minds.

We chose the Bowl with Brown Rice since I heard that it holds more toppings than the burrito. For protein, I picked the Ahi Tuna while hippoCHAN had the salmon. Then sauces were added for some flavor. The offerings ranged from sriracha aioli to spicy ginger. Since we didn't want creamy fish, we hollered, "Ponzu Fresh," for a citrus-y flare. Oh yeah, you'll have to yell because there's a tall glass window separating you from the server… unless you're over 5'5" :P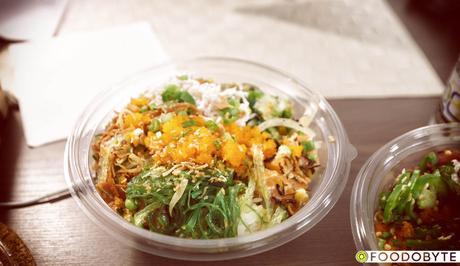 Now for the "mix-ins." I must admit – it was already getting late and all we wanted to do was eat. So, we just listed off every single thing we saw and liked to the poké builder. All the different types of seaweed, edamame, jalapeño, cucumber… you name it, we probably ate it.
Overall, it's aiiight. The ingredients were fresh and tasty, but the entire bowl tasted like one flavor after everything was mixed around with the sauce. Also, the wait was just too long.
Foodobyte's Rating


to eat / to recommend
---