Ha.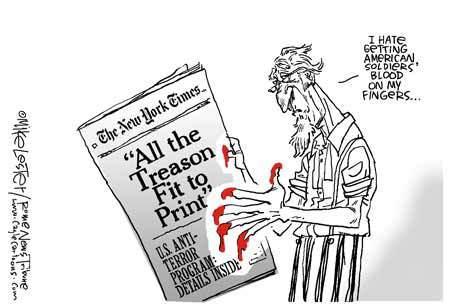 Via NY Post: The New York Times Co. on Thursday reported that digital advertising revenue in the second quarter declined 6.8 percent — its second straight quarterly tumble in the important category — helping produce a 76 percent drop in operating profit. The NYT's total revenue of $372.6 million was short of the Zacks Consensus Estimate of $376 million.
President and Chief Executive Mark Thompson told Wall Street analysts that he expected ad revenue improvement in the third quarter but that it would be "lumpy." The publisher is expecting a smaller number of ad deals across multiple platforms, but for individual deals to command more revenue, Thompson said.
The 50-plus employees who opted for voluntary buyouts in July would result in about an $11 million write-off in the third quarter.
Douglas Arthur, an analyst at Huber Research, said, "Much of the company's investment spending is focused on doubling digital revenues by 2019-20. However, 2016, so far, is the worst of both worlds — disappointing ad revenue and stepped-up spending," he said.
Said Thompson: "Advertising was tougher in the quarter, particularly on the print side. In digital, we saw very strong growth in mobile, video and virtual reality, branded content and programmatic advertising," he said. "These were not enough to offset declines in traditional Web display" in the period.
Digital advertising revenue was $45 million in the period, down from $48.3 million last year, the company said. Total advertising revenue slipped 11.7 percent, to $131.2 million. Overall corporate revenue (which included a 3 percent gain in circulation revenue) fell 2.7 percent to $372.6 million.
Operating profit, reflecting in part downsizings in Times Paris operation, dropped to $9.1 million from $38.1 million. The company said it took nearly a $12 million write-down on severance, mostly from its Paris operation. The company's bottom line swung to a loss of $211,000 in the quarter from a profit of $16.4 million, or 10 cents a share, last year.
A highlight for the company was the 4.9 percent gain in paid digital-only subscriptions, which grew to 1,424,000 at the end of the quarter. Nearly 1 in 4 of the additions came from Times crossword puzzle subs.
NYT Co. shares closed Thursday at $12.73, down 6 cents. They are down 5.1 percent this year.
DCG