NVIDIA is doing something different with Tegra 4, very different. To bring up its silicon, each vendor usually makes a reference design phone and tablet with a selection of approved components, packages a BSP (Board Support Package), and ships that and some engineers to customers. Rather than never letting the reference design see the light of day, this time NVIDIA also made it into something they can sell directly, a portable gaming device called Shield.
It's no secret that Tegra 4 isn't exactly the success that NVIDIA probably hoped it would be. While the initial word was that Tegra 4 had an obvious set of design wins following momentum from products which shipped in 2012 through 2013 with Tegra 3, but it's obvious that Shield will now effectively serve as NVIDIA's launch vehicle for Tegra 4.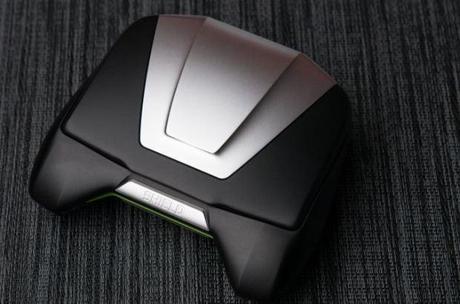 Shield is an aspirational product and not an easy one to nail down – enthusiasts are picky about controllers, Android gaming is still largely an unknown, and the question remains what presence handheld gaming consoles will have in the future. To answer all those questions NVIDIA sent over Shield, a Falcon Northwest Tiki with GTX 760 inside, and Parrot AR Drone 2.0 for us to review.
Introduction and Hardware
With Shield, NVIDIA gave us a rare glimpse into some of the stages of design. When I saw Shield at CES, it was more of a prototype than real, reviewable sample of the portable gaming device. The analog sticks weren't weighted right, the plastic felt somewhat creaky, the triggers and bumpers felt hollow and strange, and the D-Pad worked, but not amazingly so. It was exactly what you'd expect from a prototype, and as Shield inched closer to final release the hardware got successively better and better, until the final unit dropped on our doorstep.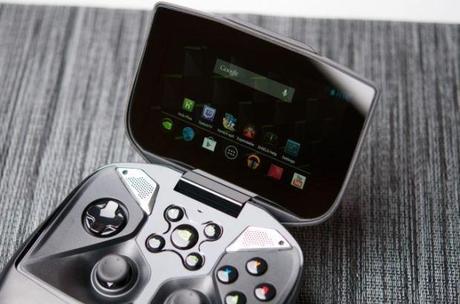 The hardware that is the shipping Shield today is a world better, it's everything I was hoping Shield would end up being in terms of a controller, with the right balance and in-hand feel.
There's so much scrutiny on the fit and finish of mobile devices these days, for NVIDIA to build a mobile device and gaming controller at the same time invites a whole new level of scrutiny, potential issues, and things to get tuned just right. I've purchased a few high end gaming controllers in my day (like a kitted out $125 Scuf FPS Competition Xbox 360 controller that I love), but hesitate to review them because of just how much there is to talk about, and how much of it comes down ultimately to taste.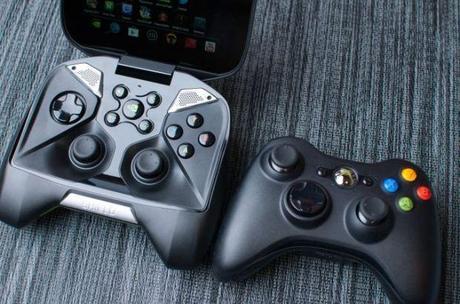 Since the display has to close flat on the control surface, some of the shape is gated by the limitation that you can't have the analog sticks or buttons ramming through the display, so they're sunken down a bit. The rest of the interface (A/B/X/Y, NVIDIA, Back, Home, Start, Volume and D-Pad) rest roughly in the same plane. The spring preload on the buttons is great, though I wish they were maybe a touch less mushy for A/B/X/Y, and although I'm not much of a platform gamer, the D-Pad feels so much better now than it did before.
The shape of Shield fits in my hands really, really well. The bottom is a grippy, rubberized material that grabs the hands well and plants the Shield solidly on any surface you put it down on. The interesting shape on the back side, means I can rest my middle finger in a sort of folded position along the inside (something you can't do with most wireless controllers) and it feels great. I have no issues with the mass of Shield fatiguing my hands or feeling awkward since it's so well balanced and ergonomically shaped down there.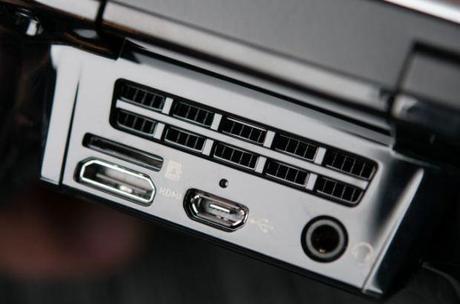 With Shield open you can see the 5-inch 720p display surrounded by a somewhat large bezel. This remains my only complaint about Shield – I wish it had a slightly larger display that took up more of the fold-out area. Below that are stereo speakers that go loud (I love that stereo is now a feature showing up in more devices) and in the very middle is a microphone.
On the top of Shield is, well, a small shield, which NVIDIA calls a tag. This snaps onto the top and adds a bit of a customization option, it's held in place with magnets. Out of the box the tag is a metallic silver material. It looks great but I've already managed to put a few hairline scratches into it, which leads me to my next point.
NVIDIA has a carrying case option available, but it really needs to give some kind of carrying case away with Shield. Although Shield feels really well constructed, right down to even the hinge mechanism, I'd like a better way to protect it, especially while traveling. I know I'm going to put more scratches into the silver tag while traveling with Shield in my bag, for example.
SHIELD (P2450A)
SoC NVIDIA Tegra 4 – 1.9 GHz
Display 5-inch 1280×720 "Retinal" Display
RAM 2 GB LPDDR3
Wireless Connectivity 2×2:2 802.11a/b/g/n WiFi + BT 3.0, GPS
Storage 16 GB NAND total, microSD Expansion
I/O microUSB 2.0, mini-HDMI, 3.5mm headphone,
OS Android 4.2.1, Updates from NVIDIA
Battery 28.8 Whr
Size / Mass 158 x 135 x 57 mm, 579 grams
Buttons Dual Analog Joysticks, D-Pad, Left/Right analog trigger and bumpers, A/B/X/Y buttons, Volume, Home, Back, Start, NVIDIA Power/Multifunction