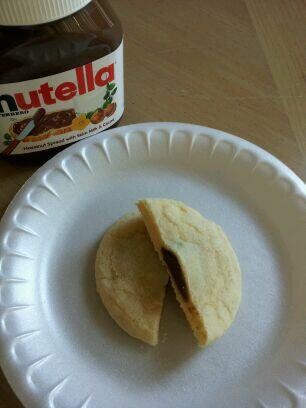 Weekends at granddaddies, what to make for all the kiddos, cookies!!! I found this recipe a while back and enjoyed them very much; somehow I didn't get any pictures though. So I decided to go with these again, and again they were a hit with the kids and adults
J
. Quick, easy, and delicious cookies are what you get with this recipe.
Nutella Sugar cookies
Recipe from:
Cookin' Canuck
Ingredients:
2 ½ cups all purpose flour
½ teaspoon baking powder
½ teaspoon salt
1 ½ cups sugar
14 tablespoons unsalted butter, room temperature
2 large eggs
2 teaspoon vanilla extract
½ cup Nutella
1/3 cup sugar
Instructions:
Preheat oven to 350 degrees F.
Line a baking sheet with parchment paper.
Sift flour, baking powder and salt in a small bowl and set aside.
In a large bowl, mix 1 ½ cups of sugar with the butter and beat on high with a hand mixer for about 2 minutes. Add one egg at a time, and then add the vanilla.
Add the dry ingredients with the butter mixture and beat on medium speed until well combined. Cover the bowl and place in the refrigerator for about 30 minutes.
Measure out ½ cup of Nutella and place it in the freezer the last 15 minutes as the cookie dough chill.
Once cookie dough has chilled, scoop 2 tablespoonfuls and roll into balls. Split the dough in half and lightly flatten each half, place a teaspoon of Nutella on one half, take the other half of the dough and cover the Nutella and seal the edges of dough together with your fingers. Roll the cookie ball into the 1/3 cup of sugar reserved for this process and place on the baking sheet about 2 inches apart.
Bake the cookies for 10-12 minutes, or until edges begin to brown. The center of the cookies will still be soft and may look uncooked but they will finish cooking when you take them out of the oven. Let the cookies remain on the baking sheet for 10 minutes before moving to a cooling rack. BEST severed warm, but still delicious room temperature.
Enjoy
J