Picture heavy post
Hello my darlings. I come to you today with a review for a 30 Day Brazilian Keratin Smoothing System. I was contacted by a representative from
nuNAAT
to see if I would like to try one of their product lines for review. I researched the website and jumped at the opportunity when I saw they had the Keratin treatment. I've been wanting to try it for some time now.
I did the treatment on Tuesday July 31st. It took me about 2 and a half hours to complete the whole process. Now, I'm not saying that that is the exact process time for everyone.I have very long and curly hair and the process in itself is tedious.
I took pictures of each step so that you can see how it works. I'm also going to document the progress of the 30 days on video. So be sure to follow me on Social Cam ( under Marlene Frierson). I will try to do a video every other day, so that you all can see how the effects of rain and humidity take a toll on my hair while having the Smoothing treatment in my hair.
A little bit about nuNAAT: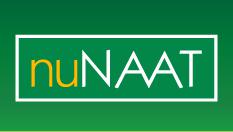 nuNAAT is a line of hair care products designed to cleanse, moisturize, and maintain based on the needs of your hair texture and daily styling routine.
There is a collection right for each hair type
.
A little about the Ultra Keratin Touch: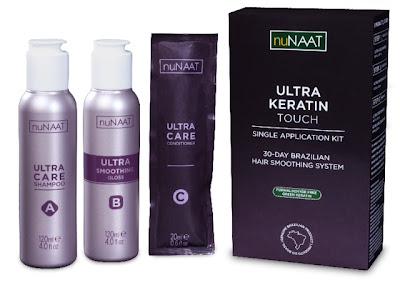 Ultra Keratin Touch is a revolutionary, new volume reducing and smoothing treatment that
works with the natural textures of your hair. This quick and easy, do-it-yourself hair
smoothing system is suitable for all hair types and lasts up to 30 days. Very curly hair will
become smoother, while naturally straight hair will appear healthier and shinier. Extremely
coarse hair types will see a reduction in frizz and curl. All hair types will notice restored shine
and bounce for an all-natural look. - Retail Price: $24.99 each
You can find nuNAAT products at your local Walgreens store.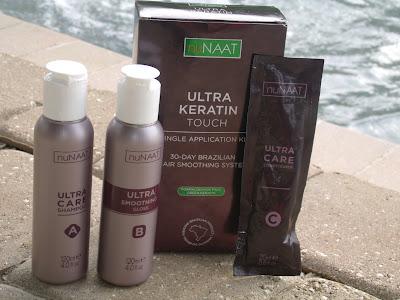 Here is a picture of me before I started the treatment process. A little about my hair: It was previously colored about 3 weeks ago and it's naturally curly normal to dry. I try to deep condition it often, as my hair can look very dry at times. To get my straight look, I just wash, blow dry my hair while running my fingers through it, then I use my Maxi Glide flat iron. ( It's pictured below). I do use Argan Oil to smooth fly aways after I am done with the flat iron.
Now that you have the low down on my hair, you can get an idea of how the system works on my kind of hair.
Now for the fun!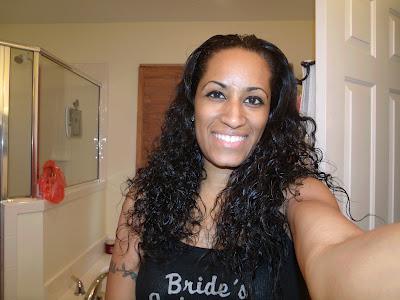 Before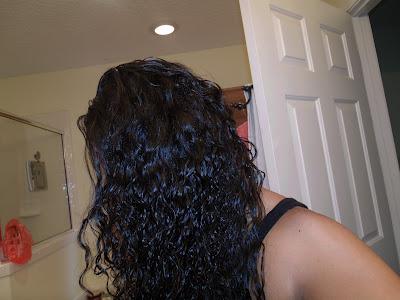 Another view ..Before
The picture below was after step one: Washing the hair with the shampoo provided. After shampooing, I had to comb out any tangles in my hair.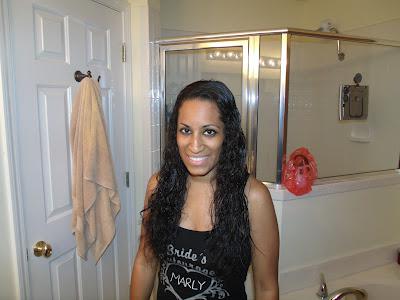 Next, I had to blow dry my hair. You see ladies, I look like a lion. It's actually pretty tamed compared to how it normally looks. ( If you can believe that).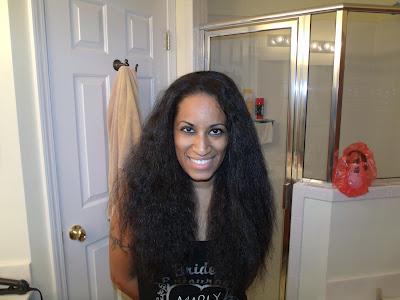 Another puffy view
Step 2 is applying the gloss. You evenly apply the gloss all over the hair once you have parted your hair in 4 equal parts. Comb the polish through the hair. This is a picture after the polish is in my hair.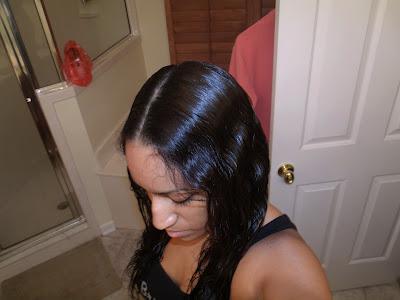 This step was a bit tedious. After applying the polish, you leave it in your hair for 30 minutes. As it's in your hair, you comb it out every 5 minutes. For this step, I used my kitchen stove timer. I set it for 30 minutes, then I used my phones timer and set it to go off every 5 minutes. It was pretty funny actually.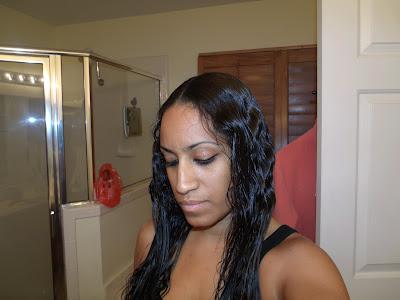 After the 30 minutes, you then have to blow dry the hair again and flat iron it. The heat seals in the polish to your hair.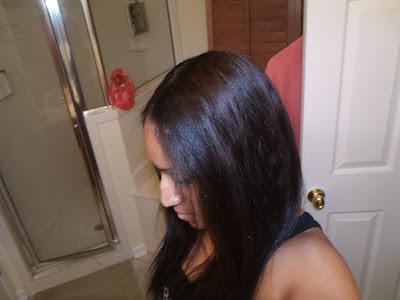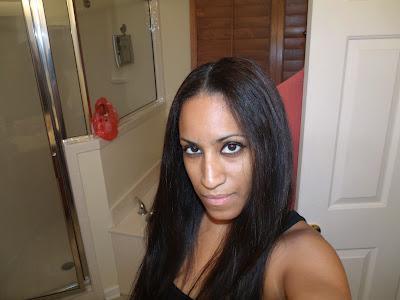 Another view after the 2x blow drying & passing the flat iron on my hair
Once you have completely passed the flat iron through your hair, you then go back and shampoo & apply the conditioner that comes in the kit. That is the last step to kit. When all those steps are complete, you style your hair as normal. For me, I blow dried and used my flat iron ( again). :) This is the final result.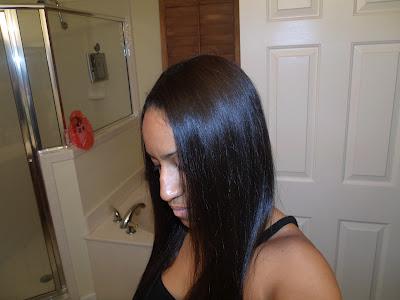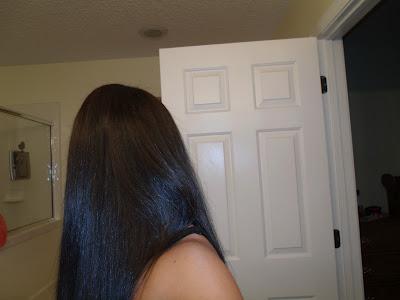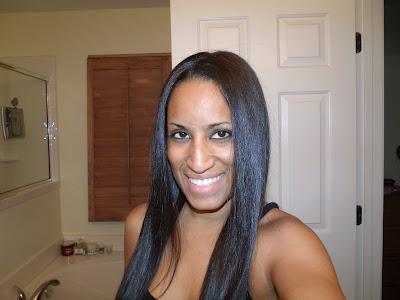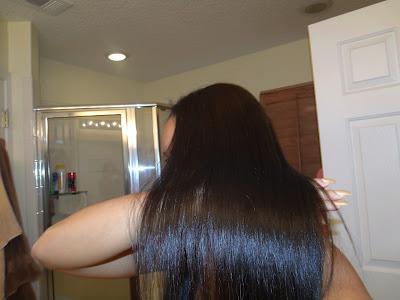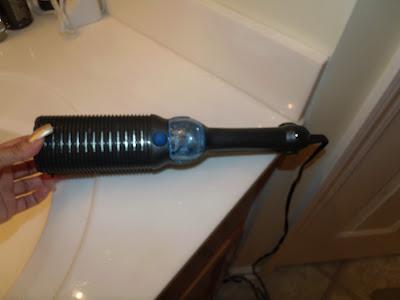 My Maxi Glide.. LOVE this!!
As you can see, my hair looks shinier, healthier and not dry at all. It feels very light and not weighed down at all. I am very impressed with the results. Yes, it did take a while to apply, but the good thing is, I don't have to do the process again for another 30 days. :)
As I write this post, I am going on Day 2 of the treatment in my hair. Actually Day 3 if you count the day I put it in. The day after I put the Keratin treatment in my hair, and went to work, it rained. Not fun at all, especially when the directions state not to get your hair wet for 48 hours. But, by the time I left work it had stopped raining. But I was able to test the humidity on my hair. Living in Florida can sometimes be a downer for my hair. Had I not had the treatment in my hair, my hair would have been a big Saved by The Bell Jessie look. ( I just aged myself, I know). Thankfully, with the treatment in my hair, It stayed doable. Yes it had some frizz. You can't eliminate 100% of frizz, but I would say it eliminated about 95%. I will take that over no percent at all.
Be sure to follow me on Instagram and on Social Cam.( Marlene Frierson on both networks). I will document the 30 day process through pictures and video.
I hope you enjoyed my review of the
nuNAAT
Ultra Keratin Touch 30 Day Brazilian Smoothing System. I know it's picture heavy, but I wanted to document every step for you lovelies. Let me know what you think of the results. If you have any questions, please feel free to contact me.
XOXO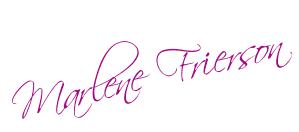 *Disclaimer*- I was sent this product for review from a nuNAAT representative and was in no way compensated for this review. As always, I will only do honest and true reviews.