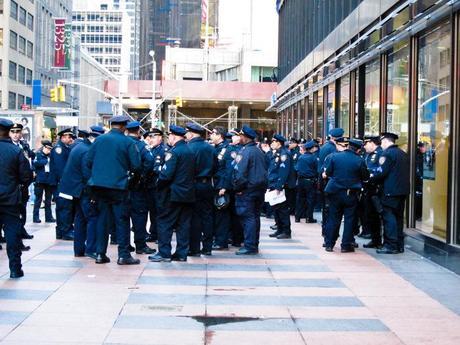 { NYPD preparing for battle – 3:00pm }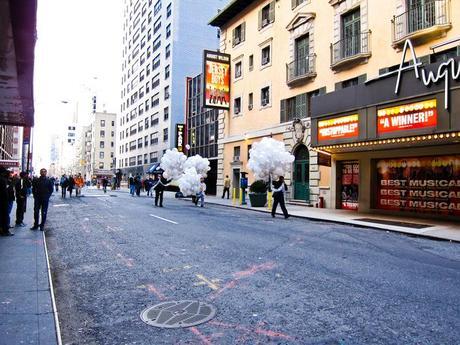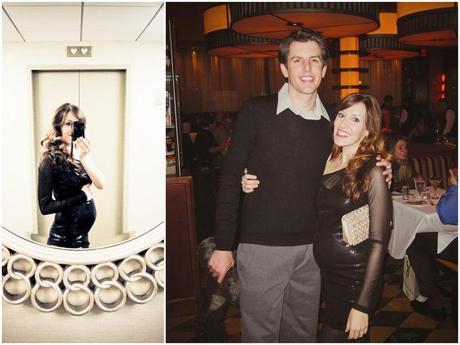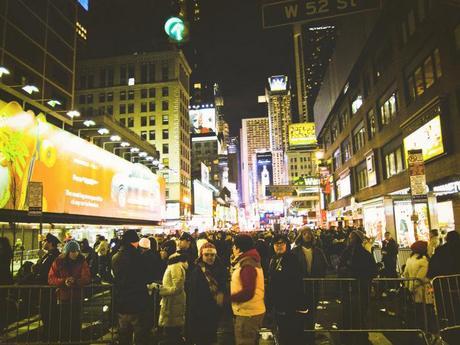 { we got to walk through the police barricades on our way to dinner – 7:30pm }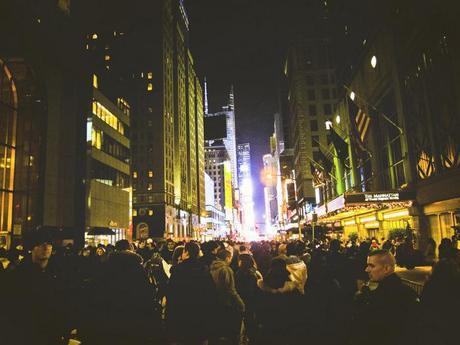 { and on the way back – 10:00pm }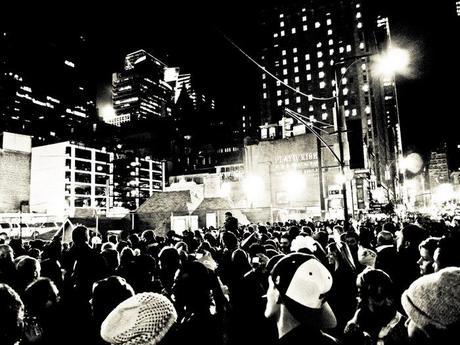 { as close as we got – 11:59pm }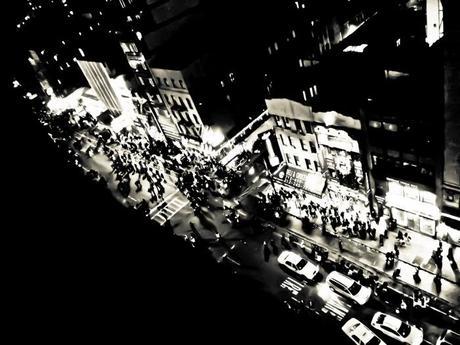 { view from our hotel window – 12:08am }
When you tell people you're spending New Years Eve in Times Square, they think you're crazy. When you tell people you're spending New Years Eve in Times Square and you're five months pregnant, they look at you with squinted judging eyes.
As previously mentioned, it was never the plan to go to NYC while five months pregnant. I figured we'd still be trying to get knocked up by now, and that I'd be able to secure a spot front and center in Times Square, ensuring that Lady Gaga and I could make clear eye contact. I was sure I'd be drinking cocktails all night, and toasting champagne at the stroke of midnight wearing a slinky dress, dancing my heart out.
Enter: pregnancy, and the new plan. Our new plan for NYE was simple: get dressed up, enjoy a romantic dinner, venture into the chaos at 11:30pm and get as close as we could to the action.
When you watch the ball drop on TV, Times Square looks crazy. But being there, in the midst of the millions of people, is a completely different story. People start lining up first thing in the morning to secure a good spot. They stand there ALL DAY LONG, wearing ADULT DIAPERS. They get locked into fenced off areas at 3:00pm and stay there ALL NIGHT. When Brett and I walked back from Central Park around 3:30pm, we got swept up in a sea of thousands of people running towards Times Square. At 3:30pm! I still had plans to take a nap, and hadn't even showered yet! I'm sure those people were able to enjoy the concert and see Lady Gaga and watch the ball drop and have their heads dusted in confetti. But really, at what cost are you willing to give up an entire day in New York to stand in a fenced off pen like an animal, wearing diapers?
I have no regrets about our NYE. We got dressed up, ate ridiculously good food, watched the countdown screen, kissed at midnight, cheered with millions, and were back in our hotel room safe and sound by 12:08am. No, we didn't see the ball drop. Lady Gaga and I didn't share a moment, and confetti didn't fall on our heads. But I'm okay with that. Because on December 31st, we spent New Years Eve in Times Square and crossed number two off our pre-baby bucket list.
Next year I'm guessing we'll ring in the new year New York style again, at 9:00pm. We'll probably be at home with flutes of champagne curled up on the couch, telling our sweet baby boy about the time Mommy and Daddy spent NYE in NYC. It will be quiet and cozy and mellow, but I promise you, it will be just as good.