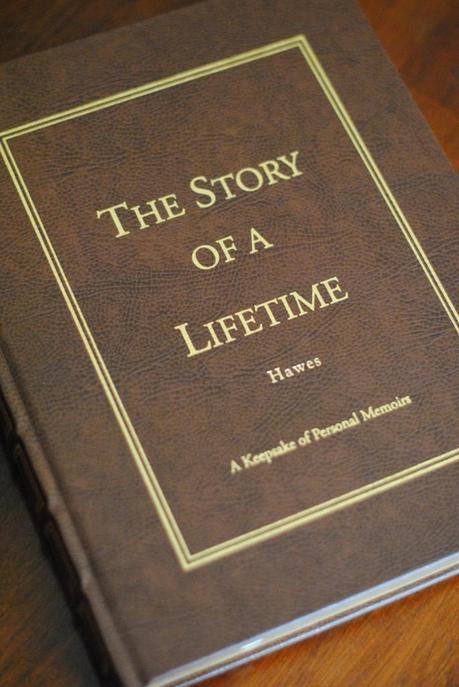 (December 2011)
Dear Mom,
Brett and I thought long and hard about how to cross this item off our list. First we thought we should buy you something really expensive, like a car or a vacation…but we quickly realized we don't have enough money for that. Then we thought we should give you a lifetime supply of babysitting coupons to redeem, but ultimately thought that might be selfish on our part.
And then it hit us. We needed to give you something meaningful.
With that in mind, we would like to present you with the gift of storytelling. Enclosed you will find an empty memoir book, full of writing prompts to help you reflect on your life—the good, the bad, and everything in between. It is our hope that through this process you will find time to learn more about yourself, and develop the legacy that you want to leave for your children.
Your story is important to us, and it will be important to our children, and our children's children. This book will stay with our family forever, to be passed down from generation to generation.
We really couldn't think of anything more meaningful than that.
We love you very much,
Brett & Ashlee
_________________________________________________
One of the items on our pre-baby bucket list was to do something nice for our parents. I never got around to blogging about it until now, but we actually crossed this off our list last December, when we presented our parents with the gift of storytelling. We wrote the above letter and ordered three engraved memoir books; one for my mom, one for my dad, and one for Brett's mom. By that point, Gene's dementia had already taken away his mental capacity to finish such an intense project, but lucky for us, he had already written a memoir for his family.
Now that Gene has left this earth, his book of memories is one of the most prized possessions in our home. This past week I have read all about his childhood, his time in the Navy, his career in sales, and of course, his marriage and family. His stories are written simply and concisely, never using more words than necessary to describe adventure, mischief, and lessons learned throughout his life. I hope that if I live to be 80 years old, I'll have a story just as good to share.
If you want to know the story of someone in your life, don't hesitate to ask them to write it down. The gift of storytelling is the gift of legacy, and it's one of the most powerful gifts you can give.