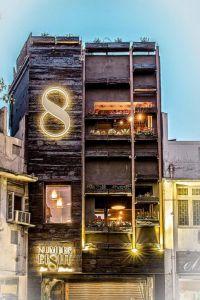 Number 8 is very auspicious as per Chinese tradition. It is also a complete number apart from 0 with no open side, and when flipped at 180 degrees, it denotes infinity. However, the newly opened restaurant is called Number 8 because, besides all these reasons, it is located on plot number 8 of Sundar Nagar market.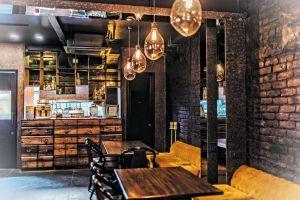 The interiors of this multi-cuisine restaurant that is spread over three floors including rooftop is kept casual with zones that reflect corners of someone's living rom. The main chandelier is a replica of the Swarovski diamonds. The restaurant has ensured it gets natural light during the day with a glass covered opening in the terrace. The popularity of the restaurant can be gauged from the reservations. I visited the restaurant for lunch on a Saturday and the restaurant was all full with tables refused to those booking late.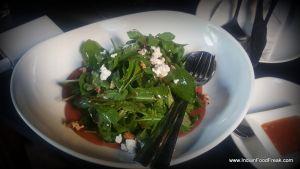 Number 8 serves a mix of European, Latin American, Oriental and Indian dishes with a twist. The presentation is kept in mind for most dishes and that enhances the eye appeal. I start with a simple salad – Rocket and Wine Poached Pear Salad. The leaves are crisp, walnut brings the bite, crumbled feta gives the creaminess and raspberry vinaigrette gives it the tanginess. It is a great start during a summer day when the temperature is hitting almost 45 degrees.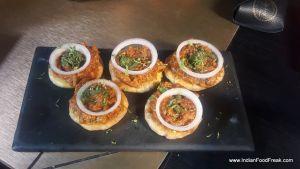 Mini Anda Parantha is topped with Bhuna Ghosht. Mutton is cooked well and is almost of pulled mutton consistency and the combo is very comforting for a North Indian palate. I would have liked a little more Sabal sauce in the Grilled Fish in Banana Leaf. Barring that little missing note, one would enjoy the fish.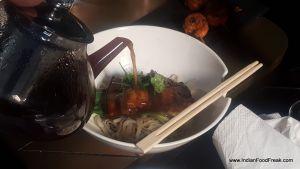 While I enjoy the starters, the mains are even better and I just love some of the dishes of which the Belgium braised Pork Belly Ramen Bowl is my favorite. The broth has so much depth of flavours that I remember my visit to Japan. Pork belly is tender yet retains the bite. If I was not to eat any more then I would have finished all the noodles too. But then the Braised Lamb is equally addictive. Served along with chimichuri potatoes and grape wine jus, it is indeed one of the better cooked lambs I have had in Delhi.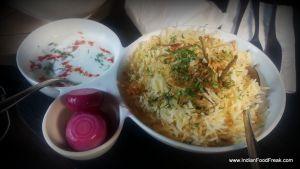 I tried the Risotto too but amongst all other superlative dishes, it pales in comparison. However, don't miss the moist and tangy Khattey Baingan ki Biryani which is served with lotus stem raita giving it much bite. Please don't miss the amazing anardana chutney either that is served with Apple and Cheese Naan. This anaardana chutney lifts the flavours of the subtle naan and can be a full combo for anyone who wants to try.
I end the meal with a baked yogurt dessert of Vanilla meringue. The dessert is the usual fare and does nothing to bring a smile on the face.
Number 8 has some very interesting dishes on the menu and this one certainly deserves a visit. I for sure will go back again soon.
Ratings (Out of 5)
Food: 4.5 | Ambience: 4.0 | Service: 3.5 | Overall: 4.0
Meal for Two: Rs 3000 | Wheel Chair Friendly: No | Credit Card: Yes | Alcohol: Yes | Timings: 12:00 Noon -1am
Address: Number 8, 8, Sundar Nagar Market, Sundar Nagar, Delhi | Phone: 011-33105972
Disclaimer: This review was done on an invitation from the restaurant. Due judgement and care has been applied by the author to remain objective and unbiased in the review, but readers need to consider this review keeping this fact in mind.