Police of Daytona Beach, Florida, are looking for a man who stole 4 pairs of athletic shoes from a Marshalls store by shoving all 8 shoes into his pants.
Click Orlando reports, Nov. 28, 2012:
Daytona Beach police are searching for a man who they say was caught on video stealing four pairs of shoes from Marshalls by shoving them down his pants and walking out of the store.
According to a police report, the man walked into the Marshalls on International Speedway Boulevard on Nov. 11 and put the shoes in his shopping cart.
Daytona Beach police said the man then cut off the security sensors and put the shoes, valued at $160, inside his blue jeans.
Police said the man was walking out of the store when a loss prevention officer approached him. The man pulled the scraper out his pocket, however, and told the officer, "Come on, I'll stick your a**," according to the police report.
The man then drove away in a gold Mitsubishi car, police said.
The culprit was described as a black man with a shaven head, goatee and a tattoo on his left forearm, according to police. He was wearing a yellow shirt and blue jeans.
Anyone with information about the man is urged to call police.
To see the security video of the thief in action, click here.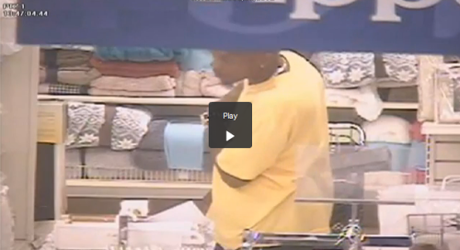 This is a screenshot I took from the video of the split second when the security camera captured the face of the thief.
~Eowyn