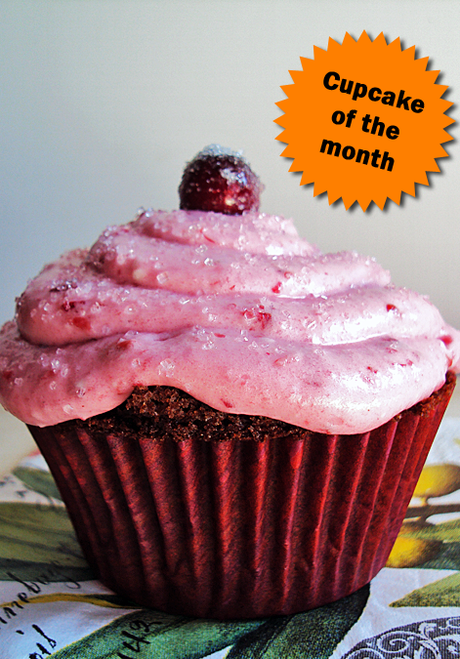 How pretty are these cupcakes?
And by pretty I clearly mean pink.
Personally, I think the cranberry is an extremely underrated as a fruit. Yes -- it is ridiculously tart on its own, but mix it with a little bit (OK a lot!) of sugar and you've got a splendid treat.
The cake batter I used is a basic chocolate cake -- and tastes just as good raw as it does baked.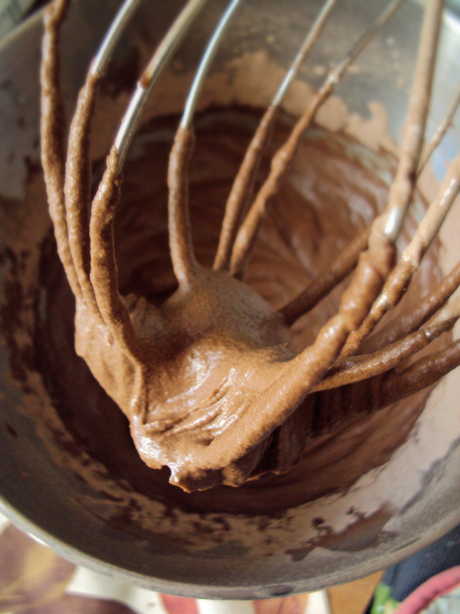 But while the cake is wonderful, the frosting is the real star of the show.  You may never eat cranberries any other way.
Oh and that sugared cranberry up top?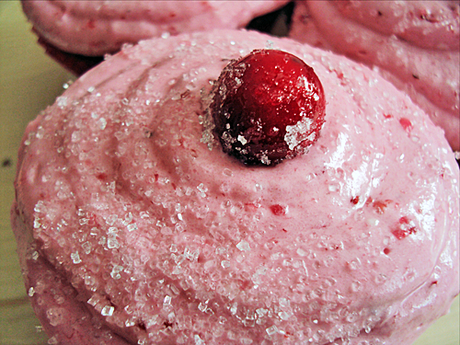 It tastes kind of like a Sour Patch Kid.
No joke.
Chocolate cupcakes with cranberry cream cheese frosting -- and a sugared cranberry on top
Yields 12 to 15 cupcakes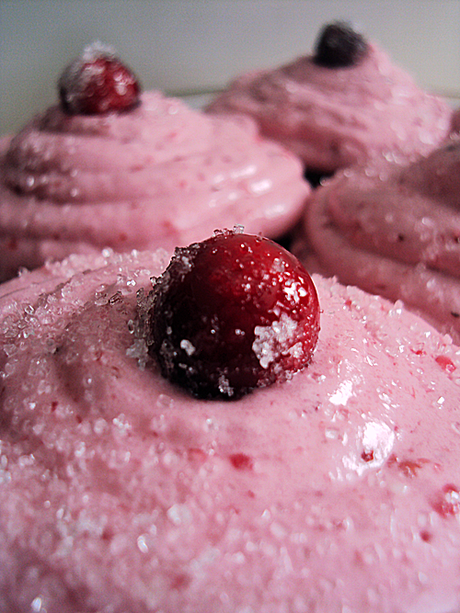 Ingredients 
For the cranberry top 
Inspired by All Recipes
1 package (10 oz) of cranberries, fresh
1 tablespoon pasturerized egg whites
2 tablespoons water
1 cup sugar
For the frosting
1 package (10 oz) of cranberries, fresh or frozen
1/2 cup orange juice
1 cup sugar
1/2 cup butter (1 stick)
8 oz of cream cheese
3 cups powdered sugar
For the cakes
Inspired by 52 Kitchen Adventures
1/2 cup butter (1 stick), room temperature
1 1/4 cup sugar
2 large eggs, room temperature*
3/4 cup flour
1/2 teaspoon baking powder
1/4 teaspoon baking soda
1/4 teaspoon salt
1/2 cup unsweetened cocoa powder
1/2 cup milk
1 teaspoon vanilla
*To quickly get the eggs to room temperature, put them in a bowl of warm water for a few minutes. 
Directions
Note: I would start the frosting before the cake batter since you need to simmer the cranberries for 20 minutes.   
For the cranberry top
In a medium bowl, stir together the water and egg whites. Coat the cranberries with this mixture.
Spread the sugar out on a baking sheet, and roll the cranberries in it until they are coated.
Dry at room temperature for 2 hours.
For the frosting:
Combine the cranberries with the orange juice and sugar in a medium-sized saucepan.
Bring to boil, and then reduce the heat to medium-low.
Let simmer for 20 minutes. Let cool.

Puree the cranberries in a blender. Set aside.
Mix the butter and the cream cheese together.
Slowly add the powdered sugar.
Add the cranberry puree and beat on high until light and fluffy.
For the cakes:
Preheat the oven to 350°F. 
In a mixing bowl, beat butter until softened and smooth. 
Add sugar and beat for a few minutes, until light and fluffy. 
Add eggs one at a time, beating after each until well combined. 
In a small bowl, combine flour, baking powder, baking soda, salt, and cocoa powder. 
In a separate small bowl, combine milk and vanilla. 
Add about 1/3 of dry ingredients to butter and sugar and mix until combined. Add about 1/2 of wet ingredients to mixture and mix until combined. Continue alternating dry and wet, mixing in between. 
Fill cupcake tins about 1/2 full (don't overfill – you only need 1/2) and bake for around 20 to 25 minutes, until a toothpick inserted in center comes out clean. 
Let cool.
Finishing touches
Pipe the frosting onto the cooled cupcakes
Sprinkle on some sugar.
Stick a cranberry on top.
PHEW! You're done.