The following is a Nov. 5 election update for High Desert voters, according to available information at the time of this posting. Readers and candidates themselves are invited to update this notice by submitting any additional information to [email protected].
* * *
CITY OF PALMDALE ELECTIONS (status of election)
– The City of Palmdale is reminding all residents that Election Day is Tuesday, Nov. 5 in Palmdale for the following races: Palmdale Mayor, Palmdale City Council, Palmdale School District, Antelope Valley Joint Union High School District, East Side Union School District, Westside Union School District, the Antelope Valley Community College District, and Quartz Hill Water District.
Polls are open from 7 a.m. to 8 p.m. If residents have questions about polling locations, please call the Palmdale City Clerk's Office at 661-267-5151 or go to http://www.lavote.net and click on the link for voting and elections.
– View Palmdale City Council candidate statements from an earlier Civic Bee article that featured a Sept. 26 debate hosted by the League of Women Voters Antelope Valley at civicbee.com/2013/10/05.
* * *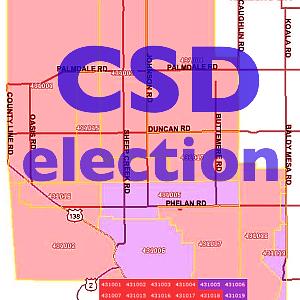 PHELAN PINON HILLS CSD BOARD OF DIRECTORS ELECTION (candidate statements & information)
– Board President Charlie Johnson, Website:
"My wife, Terry, and I moved to Phelan over twenty-one years ago. This was quite a change from our suburban life in Thousand Oaks. The rural living life style was a refreshing change from what we had experienced. I never want to lose this rural living feeling. I want our local government, the Phelan Piñon Hills Community Service District, to reflect this.
"In order to learn about the community, I began attending many local meetings: the Phelan and Piñon Hills Chambers of Commerce, the Snowline School District, and the Citizens' Advisory Panel (CAP). I became involved in these groups. I joined both Chambers. I was asked to be a member of the CAP by County Supervisor Turoci, and was the Chair for many years. When Kathy Davis was elected Supervisor she established the Phelan Municipal Advisory Council (MAC), and appointed me to be the first Chairman.
"I was honored as the Phelan Chamber Outstanding Citizen in 1994. I joined the Tri-Community Kiwanis (1993) as a Charter Member. I was selected as Kiwanian of the Year in 1995-6. I have served three terms as Club President.
"This is my thirty-fifth year as a volunteer in the American Youth Soccer Organization since my daughter began playing in 1978. I currently serve as the Area Director for the High Desert Regions (twelve Regions in three counties, including the Tri-Community). I am a National Coach, National Referee, and Advanced Coach, Referee, and Management Instructor.
"I have a Bachelor of Science in Management, and an MBA. I was the Vice President/ Controller of a $600 million IT subsidiary of a major bank. I have been a consultant in IT financial management for over twenty years. I have been a Professor of Finance for the University of Redlands, and currently teach for the University of Texas in Dallas in Mexico City.
"It has been my honor to serve the voters of our District for five years, selected President for two terms. I chair the Finance Committee, responsible for creating sound investment, budget, and financial reserve policies. Since taking over from the County we saved over $1.1 million the first year of operations. We continue to aggressively look for cost savings. Our District is fiscally strong with reserves for disasters, repairs, and improvements.
"Our accomplishments include: rehabilitation of nine out of eleven wells; initiating a program to repair and maintain our thirty-four reservoirs; repairing all twenty-four booster stations; and replacing 6,800 water meters with accurate, efficient radio read meters. We acquired Meadowbrook Dairy's water rights saving up to $25 million over thirty years. We have improved parks and community centers, and acquired 135 acres earmarked for future parks.
"We partnered with community groups to add programs, like free movie nights and activity classes.
"The current Board's progress is continuing proof that I can work with our team of Directors and staff for positive results, and save money.
"I want to thank the communities of Phelan and Piñon Hills for your continued support."
– Board Director Al Morrissette, Board member bio:
In 1996, Al Morrissette moved his family to the Pinon Hills to provide a rural upbringing for his 7 children. He became active in community events and activities and in 1997 was chosen to be a member of the Pinon Hills Municipal Advisory Council. He served on the council for 7 years, including 4 as its Chairperson. In 2004, he was transferred to the Zone-L Water Advisory Board and had gained knowledge not only of Zone-L, but of High Desert water needs and system interfaces.
Al Morrissette's entrepreneurial spirit allowed him to develop a variety of business ventures that includes commercial and residential landscaping, insurance agency, classic automobile restoration, environmental recycling, freelance journalism and other concepts. He is known as a philanthropist and currently serves on several non-profit director boards. He served on the feasibility committee that researched and developed the process for the communities of Phelan and Pinon Hills to form the Phelan Pinon Hills Community Service District. The voters also elected him to serve on that board of directors and that term will expire in 2013.
He brings a broad spectrum of knowledge and leadership to the board through his prior experiences and a never ending quest for knowledge. He believes in the value of self-governance that will provide service to the communities while maintain the rural lifestyle and natural resources of the area.
– Challenger Cathy Pace, Facebook page:
"I have lived in our area for 27 years and have been involved in this community and the water issues longer than anyone currently on the CSD board and earned a reputation for being a thorn in the side of bureaucracy that would waste taxpayer monies.
"Starting with White Road Property Owners Association to being involved in all the issues that came up in Phelan including stopping 2 major Electric Transmission lines and a large gas line crossing our area to assisting with stopping the addition of MTBE's from being added to gasoline because of potential issue of run off entering our ground water. I participated in the Phelan feasibility study to protect us from Victorville intervention; in fact Carolyn McNamara and I were the boundaries committee that determined the boundaries presented to LAFCO.
"I also represented the community and families by serving on the Snowline School District Board where I was able to save the district 1 million dollars in the first 6 mo. by supporting a district wide purchasing policy along with ensuring that all schools had to budget annually for libraries, which had previously never occurred. We removed the use of credit cards throughout the district.
"From the beginning I became involved in water issues and stood for our area against the county whenever we could. Once the Zone L water board was created I was appointed and served as Chairman for a couple of years. We continued our fight against the county and for our community. Once Jim Roddy left LAFCO we met with Kathleen McDonald and she assured us that we would now be able to present to LAFCO and receive a fair review. At this time I felt that we had laid all the necessary groundwork for the community to develop the current CSD and as I had 1 son in college and another going to be entering I felt that I should commit to my business to help them financially.
"With 30 years business experience and the last 15 as a Consultant to Healthcare, I have earned an excellent reputation and am known for saving millions of dollars annually for my clients in support services. My skills range from all operational and financial matters to writing and negotiating contracts. I am also knowledgeable about facilities and maintenance. During my career when I first moved out here I was a local Real Estate and property manager agent over five years. That gave me a great understanding of our area and our community.
"I have been given to understand that there is a rumor around town that I would be a problem if elected to this board and if you believe having someone who cares about improving and protecting this community and our water system, someone who is known for doing the necessary research prior to making decisions, someone who is frugal and considerate with taxpayers money, someone who will fight for real transparency for our district finances and someone who makes a concerted effort to get information out to the public by not being afraid to speak out in meetings then you're right I will be that kind of a problem.
"I ask you for your vote for you and our community."
– Other candidates, whose statements or information were not available to the Civic Bee, include incumbent Director Mark Roberts, elected March 2008, and newcomer Dan Whelan, a local business owner who has spent most of his career working in construction management.
Visit the Phelan Pinon Hills Community Services District website for more information on current board members at http://www.pphcsd.org/boardmembers.php.
* * *
For additional High Desert voting information, visit http://www.lavote.net for Los Angeles County; and for San Bernardino County, visit http://www.sbcountyelections.com.