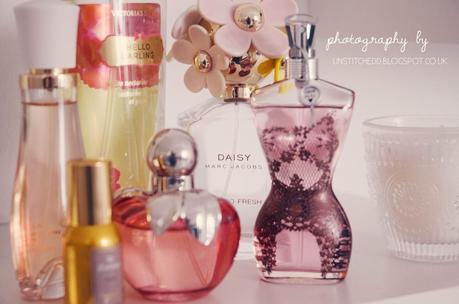 I got my first 'proper' perfume about two years ago, and since then my collection has just continued to grow. I think that perfumes are such a special and personal thing, evocative of memories and people, so I'm not really sure how useful this post will be to you but I thought that I would share with you my little collection anyway. I definitely feel that I have a lot of perfume for a girl of my age, but rest assured it does all get used! I like to alternate perfumes depending on the time of year, the outfit I am wearing (is it just me?), where I am going and doing and how I am feeling. 
I've jotted my sniff test results down, and heres what I came up with ...
Classique by John Paul Gaultier EDP - I gave an in depth review on this a couple of months ago so you can read that here. The scents that I can pick up from it are rose, vanilla, something slightly citrusy, daffodils, jasmine, sandalwood and a slightly musky scent. It's light enough for everyday and has definitely become my go-to when I don't know what to pick. 
Nina by Nina Ricci EDP - I've raved about this here before so again I will just give you a quick overview. At first the perfume is quite citrusy, which I'm not a massive fan of but it settles down into a more sweet apple fragrance with deeper floral notes and scents of praline after a couple of seconds. This perfume is definitely quite sweet and girly, but not so much so that it is sickening. It's also a little heavier than a lot of the others in my little collection so I find it perfect for evenings. 
Suddenly by Miss Glamour EDP - I got this in my stocking for Christmas this year and instantly fell in love with the smell. I'd never heard of it before so did some research into it and it's meant to be an absolute dupe for Coco Mademoiselle, pretty good for £3.99. I'm not exactly sure how I would describe this perfume but I would say it is probably a good middle-ground perfume that would appeal to everyone. The scent is very clean and a little bit sweet, but not over the top, or cheap smelling like you might expect. I think the best way to describe it, although it might seem a little odd is like the classic soap and glory scent in perfume form. For the price, it can't be beaten.
île d'amour by Fragonard - I bought this mini perfume on a holiday in France when I went to visit the famous perfume houses of Fragonard. This perfume holds some really lovely memories for me, which I am always reminded of whenever I spray it, so for me this perfume is great as a little mood-booster. I would describe the scent as very beachy, fresh and romantic with gentle floral notes: something perfect for when you want to get into the summer spirit. 
Hello Darling by Victoria's Secret - Another recent purchase, I got this body spray during the boxing day sales when I saw the display for all the half price bottles. After trying all the scents, I eventually settled on this because I really liked the calming nature of the smell. Based on the scents of white nectarine and peony, this spray also has camomile extracts which makes it great for relaxing, and I find that this makes a really lovely scent to top up during the day with. 
So, that is it, for now. I've got a couple more perfumes that I would love to add to my collection, I'm looking at you Flowerbomb, but at the moment I have more than enough to cater to all my fragrance needs. If any of you need tips for searching out the perfect fragrance, I would recommend doing a lot of research into them, they're not cheap, sniffing them at least a couple of times to make sure you really like the fragrance and check to see how well it lasts on you. Oh, and the bottle design is obviously a major factor too.
What are you favorite perfumes?