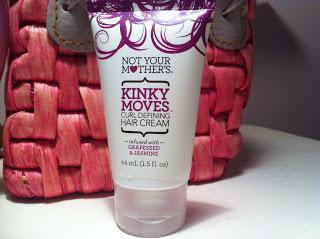 On the weekends, I typically spend the time to blow my hair our straight. But during the week when I'm working, I like to dry my hair curly and wavy because it takes less time.
When I do this, I usually apply a leave-in conditioner to my ends, a de-frizz product around the crown of my head where my hair tends to frizz out and then a sculpting or scrunching gel to all of my hair to keep the waves in place and fight frizz.
I recently replaced a de-frizzing product I've been using sometime with Not Your Mother's Kinky Moves Curl Defining Hair Cream. This product claims to be able to "encourage natural curls by giving them that extra oomph" as well as eliminating frizz and flyaways. It also is infused with grape seed and jasmine to "add extra bounce" to curls.
I definitely noticed a difference in my waves the first time I used this curl defining hair cream. I did get some frizz in my hair, but not as much as usual. I also felt like it did help my natural curls form a nice shape.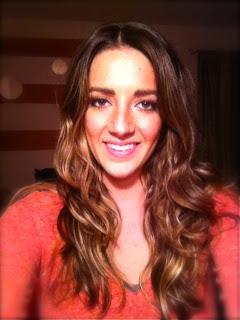 When I used it, I followed the instructions on the tube by applying it from root to tip and saturating all of my hair with the product. I still used a leave-in conditioner and gel in my hair before drying.
To dry my hair, I use a hair dryer with a nozzle on and gently scrunch up sections to help the hair curl. I will also replace the nozzle with a diffuser and again scrunch up some sections into the diffuser to help the hair curl, although I don't do this around the crown of my head because I've found that it promotes more frizz in that section.
Here's a shot of the finished product.
After using this cream a number of times, I found that it works best when I take my time to dry my hair and try to not completely dry my hair. The longer I held a dryer on my hair, the more frizz developed, which is typical despite any product I use when I dry my hair wavy.
If you have similar hair as me, you will have to use a lot of this product since it calls to saturate your hair from root to tip. I have very thick and long hair, which means using a lot of this cream.
I would recommend trying this product if you've been using the same products for a while. I'm always a fan of trying out a new product to see what kind of results I can achieve. I was sent a trial size of this product, but if you're interested in trying it, it costs $6 for a full 4-ounce bottle.
The Not Your Mother's brand has a number of cool products I would like to try out next, including its Beach Babe Texturizing Sea Salt Spray, Girl Powder Volumizing Hair Powder and Smooth Moves Frizz Control Hair Cream for when I blow my hair out.
Have you tried any of Not Your Mother's products?
- Nic


You can follow me on Twitter at

@NicElise

 and Instagram @nicelise

** Disclaimer: I received this product complimentary for testing purposes from Influenster**