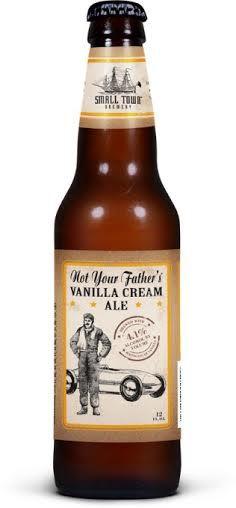 When I was a kid, my favorite beverage was cream soda; I drank it all the time. But as I got older I drank it less and less. As an adult, I don't even remember the last time I had cream soda. In fact, I kind of forgot about it. And then…I heard about Not Your Father's Vanilla Cream Ale from Small Town Brewery. And I knew I had to have it.
Not Your Father's Vanilla Cream Ale tastes just like a classic cream soda: sweet, smooth, delicious. At the first sip it took me back to being young again, only with this cream "soda" you have to be an adult to enjoy it. At 4.1% ABV, it's a great sessionable ale for summer. You can drink it straight out of the bottle, or over ice. It makes a terrific float too! Just add a scoop of ice cream. But if you want a real treat, check this out this recipe I found at Food.com: Vanilla Dream Floats. Instead of plain vanilla, this recipe calls for cookie dough ice cream! Just sub Vanilla Cream Ale for of regular cream soda. It's one of the best things ever.
If you like cream soda and you like beer, I recommend giving Vanilla Cream Ale a try!