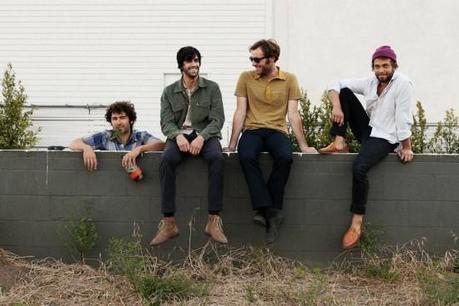 Busman's Holiday – Allah-Las // Buy
Summer may be officially over today, but if you want to cruise into fall on the heels of something sun-drenched, let the mellow surf-infused, garage-rock sounds of the Allah-Las (@allahlas) be your soundtrack. Best Coast may sing literal love songs to the state of California, but fellow Angelenos, the Allah-Las, pay tribute to the Golden State through their rich vocal harmonies and jangly guitar riffs. Given that three out of four band members are surfers, '60s-influenced West Coast pop and garage rock — ala The Byrds, The Seeds, The Pretty Things, The Electric Prunes, and pretty much any band from the Nuggets compilation — definitely reverberates in all twelve tracks on the band's self-titled LP.
Though the Allah-Las started out playing a little dirtier, delving into the punkier side of garage rock, they've honed their skills, narrowed their sound, and mellowed out a bit in time for the release of their debut, self-titled LP. Sweet-tempered, cheerful, and charming, this group isn't the sort you'd want to play during the peak of a party; but when things are winding down and it's time to relax, hitting play on the their new album will definitely set the right mood. File this next to your Beachwood Sparks, Real Estate, and Beach Fossils records.
Want a dose of the West Coast here on the East Coast? The Allah-Las will be headlining Union Pool on October 5th and opening for Nick Waterhouse at Bowery Ballroom on October 6th.