Wow!  Does that title describes what I want to be!
 "We sit in the pews.  We sing the songs.  We recite scripture-scripture we know by heart.  And yet buried in the midst of this routine are commands and requests straight from the Most High that go ignored.  We've become so reliant on God fulfilling His end of the bargain that we fail to follow through with ours.  WE'VE BECOME HEARERS.......GOD WANTS DOERS."
I don't know about you, but for me most devotionals are so short that there's barely any "meat" to chew on throughout the day.  And in this season, I don't have the time to put into a full blown, in-depth Bible Study.  I have been tremendously blessed by Yolanda Shanks latest offering,  
Not Just a Hearer but a Doer 
!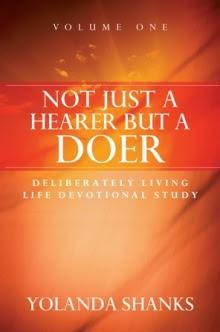 "These studies began from the overflowing sense of awe that whelmed up as a result of my personal quite-time and mediation in the Word of God.  Because I am a visual learner, I found that the more I feasted on Scripture, the more I desired to apply God's Word into my life by documenting future lessons for a more in-depth study.  It goes without saying that God soon gave me a desire to share with others the magnificent treasures I had gleaned."
This devotional is well written, to the point, but with enough biblical truths and relevant application to be pondered throughout the day.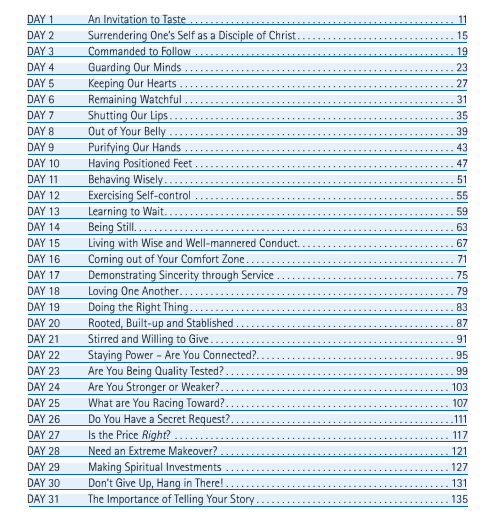 Not Just a Hearer but a Doer Table of Contents
Each of the 31 days contain an observation, background, interpretation, application and a place to write notes.
Though I am only 1/2 the way through the book, I am seriously considering going through it with my 12 and 14 year old sons, opening it up for discussion and also time for them to journal their thoughts and impressions.
Disclosure: I received the above product to review. I was not required to write a positive review nor was I compensated in any other way. The opinions I have expressed are my own. I am disclosing this in accordance with the FTC Regulations. I am part of 
The CWA Review Crew
. This post written and property of Homeschool Circus and can be found at: www.upatdawnreadytowork.com.