CAIR all of a sudden changing their tune on the "Islamophobia" angle.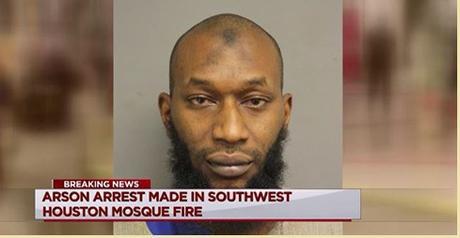 "Jamal Moore"
Gary Nathaniel Moore, aka"Jamal" Moore, now faces a charge of arson for setting fire to a southwest Houston mosque on Christmas day.
As ABC News 13 reports, Houston Fire Department's chief arson investigator said, There's no motive that's clear to us right now. Nothing's been revealed. He was a member of that mosque. He was there for several years."
Jamal admitted to being there before the flames sparked, but has not admitted guilt.
Investigators found matching cans of charcoal lighter fluid at the mosque and at Moore's house. They would not talk about additional evidence at a press conference with elected leaders and the ATF Wednesday afternoon.
"We view arson as a violent crime," said the ATF's Special Agent In Charge in Houston, Robert Elder. " It is a crime that is not only an attack on a building. It's an attack on the community."
Even though Jamal is of Muslim faith and was a member of the mosque he set on fire, some are still calling for an increased police presence at the city's dozens of mosques. Apparently you cannot let facts get in the way of a narrative.
"I think we need some protection from HPD," said Manzoor Memon, who attended the press conference. "We ask the police officers that while they are doing their paperwork they should hide themselves close to the mosque."
As for Moore, the lack of motive is what is most puzzling for those in the Muslim community. "We're really concerned about what could have, what is his issue?" asked Mustafa Carroll with the Council on American-Islamic Relations. "What could have caused him to do something like this?"
Jamal sits in jail on a $100,000 bond.
And guess how the "media" outlet Salon reported the story of the mosque being set on fire by one of its own members? They deleted their story because it didn't fit the Islamophobia narrative. That's today's journalism propaganda for you.
DCG