Going out for an evening in Shrewsbury, I got straight onto google and looked for somewhere I could get a cocktail. I am not a big drinker, I don't like getting drunk but when I do drink I like to have a good quality cocktail or two. I'd rather have a couple of amazing drinks than an evening drinking a bottle of cheap wine. Who wouldn't?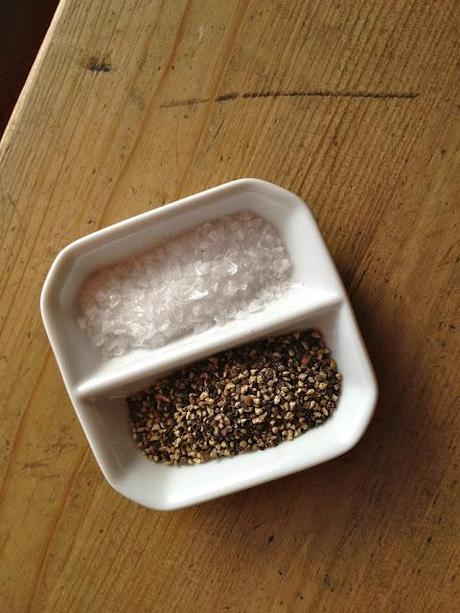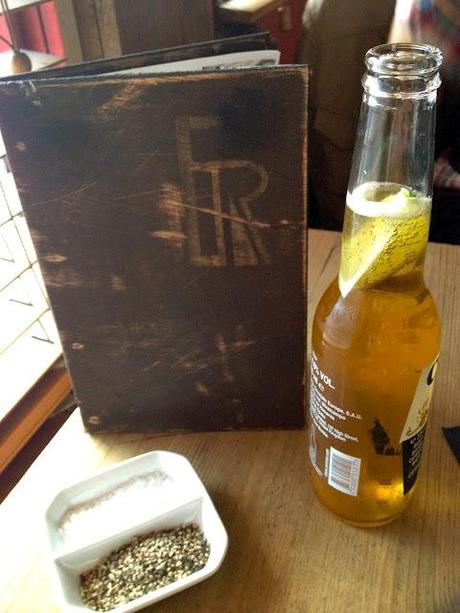 So after a bit of searching, Google's resounding answer was Frank Cafe Bar.  All the reviews on different websites were good, including Trip Adviser and as it was a short journey from where we were staying I knew that's where we had to go. And hey, I thought if it was good, I might write a review on it for my blog. So here we are:
Billing itself as "a relaxed social dining experience" and claiming they "offer Shrewsbury's finest, unique Tapas cuisine" I liked the sound of it, even if the website branding wasn't up to that much.
The cocktail menu is extensive, including an offer where you pay £25 and get to choose four cocktails from their special menu to enjoy throughout the night. Fun/dangerous!
I had a Margarita and a White Russian. The former was good but not great, there certainly wasn't enough salt on the rim of the glass for my liking (I wondered if they'd used lime or just water to dip the glass in the salt) and all I could taste was tequila. If all I wanted to taste was tequila I'd have bought a tequila shot. But it was ok. The White Russian was much better, pretty strong and the right combination of vodka, kahlua to milk/cream. My partner and I agreed it was one of the better White Russians we'd had (and he is a big White Russian fan).  This made up for the not so great Marg.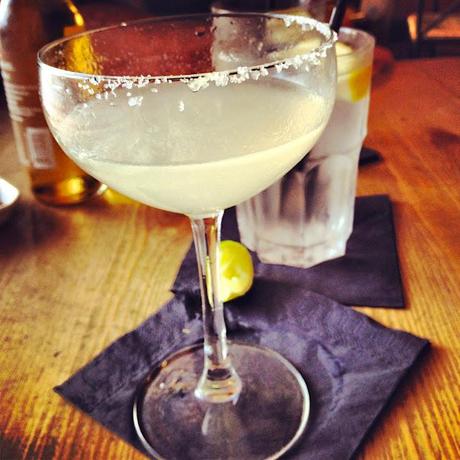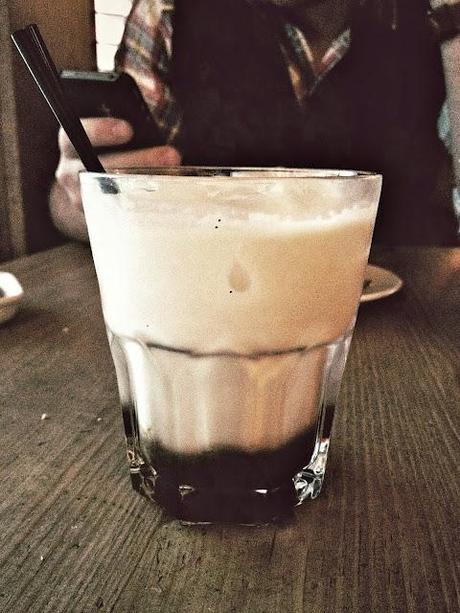 The tapas menu is quite extensive - there is an excellent selection of meat, fish and vegetarian dishes, including the regular fair like patatas bravas, humus and pitta and olives.
This was some of the best humus I've eaten, actually.  It was creamy in taste, not too smooth in texturing and garlicky without being overpowering. A really winner and humus is not something my boyfriend is a big fan of - but we both agreed it was delicious. The portion was generous and more than enough for two people to share as a starter.  But when the rest of our tapas arrived, including a mozzarella and tomato salad, it came with bread AND pitta bread.  So it seems a bit silly that we'd ordered the pitta and humus to begin with - a little guidance from the waitress here wouldn't have gone a miss. But never mind, it was a small glitch.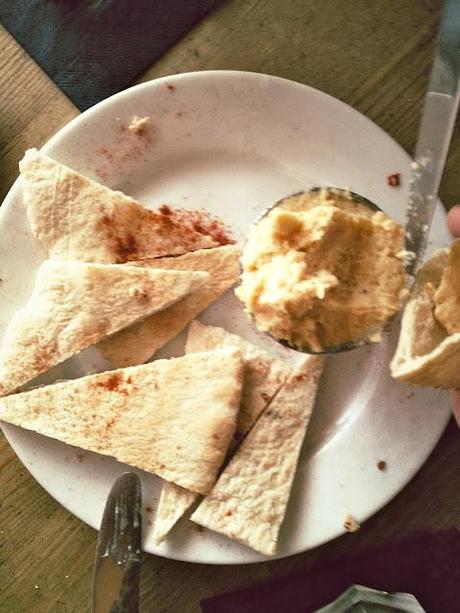 This is the list of tapas we chose:
Hummus and toasted pitta bread
Frank chilli beef strips with sesame, ginger, chilli and peppers (gf)
Albondigas - Spanish pork and beef meatballs in a smoky tomato sauce
Black pudding, chorizo and potatoes
Chorizo roasted potatoes
Tomato, mozzarella and coriander salad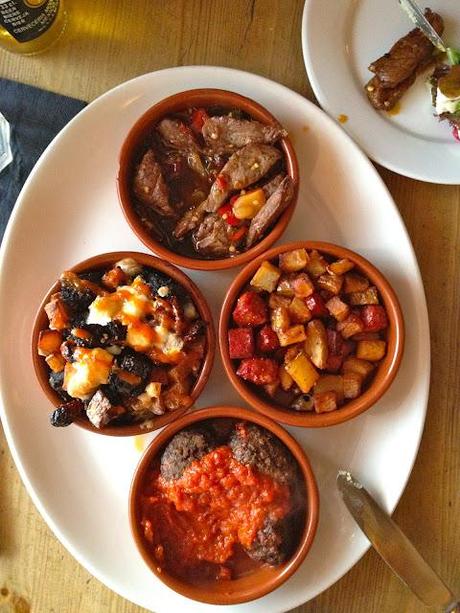 The dishes, though tapas, were generous.  And  what we had here was more than enough for two people, I think thanks to the amount of bread/pitta provided (more than generous). I actually only had some pitta for the starter with the humus, and was still very full by the end.
I'd have to say the spicy beef strips were the best dish, the sweet and spicy seasoning was well balanced and perfect to mop up with bread.  The salad was lovely, generous, the cheese melt in your mouth.  The potatoes were chopped up pretty small and were perfectly cooked.
It felt like quite a rich meal overall, but I think that's because I was with a non-seafood eater, so we didn't order any fish dishes which I think probably would have made the meal a bit lighter, and we could have ordered another vegetable or salad dish too. And without realising it, somehow we'd ordered two dishes with chorizo, slight overkill but it was all so delicious it didn't really matter.
As I said earlier, I didn't love the branding. Why is it 'Frank Cafe Bar' and not 'Frank's' for a start?  They are situated right by the Severn Theatre, so I think they are going for something that reflects the musical and theatrical surroundings.  All the photos on the walls were of famous musicians - not a theme I'm a fan of for restaurant decor.  It all felt a bit 'film noir' to me - the font they've used for their signs may well be called 'film noir'.  This may just be a personal preference, it didn't feel like it quite went with the great food and fabulous cocktails.  Being situated right next to two of Shrewsbury's largest music and theater venues, it kind of makes sense for style continuity but I think they could have their own unique brand without this link and still be a great eatery/drinking hole.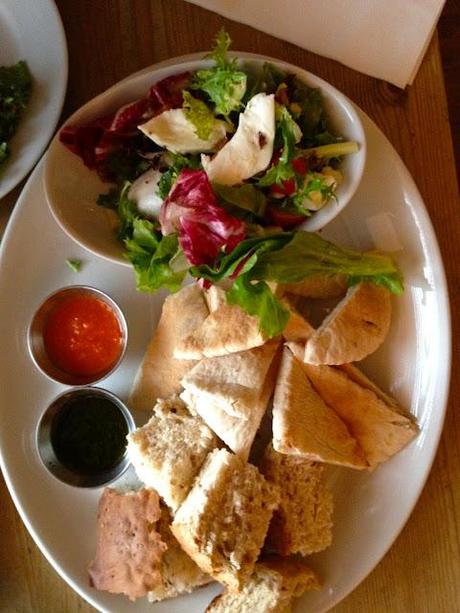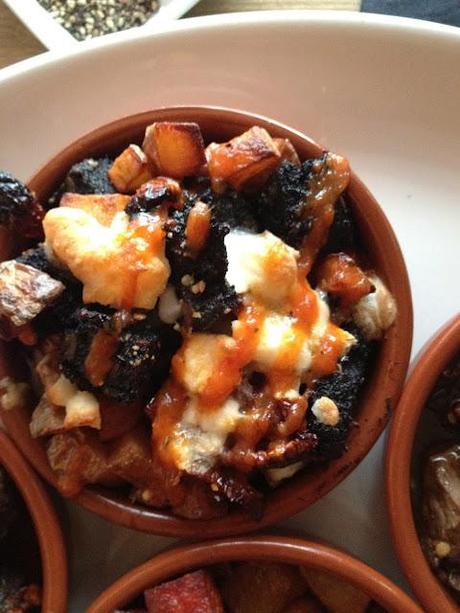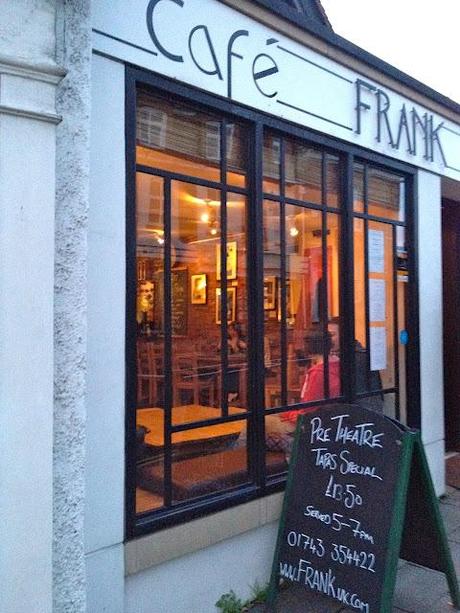 The decor aside, the experience was really good and the food and cocktails fantastic. The food and service were, overall, really good.  Although we had to go and find someone to pay, the service apart from this blip was really good. The atmosphere was cosy, warm, intimate, friendly and, as I've said before on here, I do like a cosy eatery.  Other people were quite dressed up for the evening, which gave the place a smart, cosmopolitan feel to it.
The cocktail menu featured a few of the venue's own individual recipes and for £30 you can choose 4 cocktails which you can order through the night, all from the Frank cocktails area of the menu.  One last thing, the cocktail menu featured cocktails that came with a side peanut brittle.  If for this alone, I will certainly be going to Frank Cafe Bar.
Frank Cafe Bar
165-167 Frankwell
Shrewsbury
SY3 8LG
Tel No: 01743 354422
Twitter: @Frankcafebar