Not a Chance
by Maureen L. Bonatch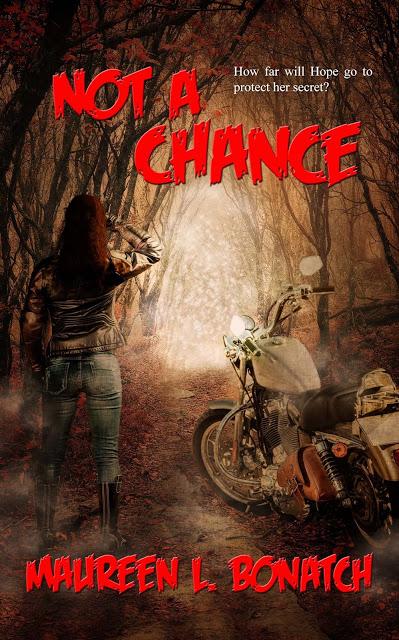 GENRE
: Paranormal Romance
BLURB:
The last thing Hope Hallows wants is to become the latest headline. Living in a town that likes secrets, she prefers to keep hers hidden. Avoiding a nosy reporter's questions about her ability to infuse euphoria or despair with a single touch, and those who crave this bliss, is nothing new. But having her brother's annoying girlfriend, Berta, go missing is—especially when it makes Hope suspect number one.
As a triplet, her resemblance to her beloved dead sister causes her family to grieve even more, and her escalating supernatural skills makes Griffith, her half-human-half-Oppressor boyfriend, wary. He wants to put his unsavory past behind him—this could include Hope—since her abilities remind him of the Underworld.
In her desperate search to find Berta, she stumbles across a tunnel. Phantom voices within whisper that evil has been waiting for a new leader—and isn't she lucky, they've chosen Hope.
EXCERPT
"Berta?" I whispered, as if the Oppressor required sound to locate me and couldn't pinpoint me on the temptation of my essence. If silence were required to protect me from detection, the spinning of the bike tires over twigs, rocks, and dry leaves disintegrating as I passed would've thwarted my attempt at stealth long ago.
"Berta?" I yelled louder this time. Dread settled in as I realized she should've caught up with me, unless she turned around and returned to the bar. My irritation faded as my thoughts flew into a panic.
What if the Oppressor laid in wait for her, and she couldn't resist? Not many could ward off the lure of an Oppressor, it's the reason the town boasted an unusually high number of suicides.
I cringed as I recalled how I instigated the creature with an insult as I saved myself and totally forgot about Berta. She didn't have any abilities to identify the advance of an Oppressor and protect herself.
AUTHOR Bio and Links:
Author Bio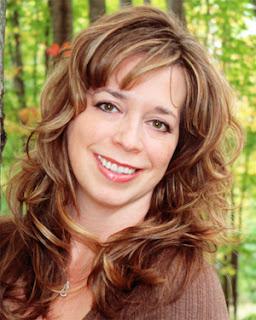 Maureen lives in small town Pennsylvania and her love of the four seasons —biking, sweat pants, hockey and hibernation—keep her there. Surviving twins gave her the confidence to learn to belly dance, declare herself a tequila connoisseur, act as biker babe to her alpha hubby and to release the characters from her imagination. These adventures, and a love of sarcasm, help her craft paranormal and fantasy stories full of fun, family, magic and mayhem. She survives on caffeine, wine, music and laughter. A feisty Shih Tzu keeps her in line.




Amazon: https://www.amazon.com/Not-Chance-Enchantlings-Book-2-ebook/dp/B07H9NB38L/




The Wild Rose Press: https://catalog.thewildrosepress.com/all-titles/6200-not-a-chance.html




Barnes and Noble: https://www.barnesandnoble.com/w/not-a-chance-maureen-l-bonatch/1129524330




Amazon Author Page: http://www.amazon.com/Maureen-L.-Bonatch/e/B00KHY1KK8/

Twitter: https://twitter.com/mbonatch

Blog: http://www.maureenbonatch.com/blog/

Website: http://www.maureenbonatch.com

Newsletter:http://eepurl.com/1AV4L

Pinterest: http://www.pinterest.com/maureenbonatch/

Facebook: https://www.facebook.com/maureenlbonatch

Bookbub: https://www.bookbub.com/profile/maureen-l-bonatch

Goodreads: https://www.goodreads.com/author/show/3103486.Maureen_L_Bonatch




GIVEAWAY




Maureen L. Bonatch will be awarding a $15 Amazon/BN GC to a randomly drawn winner via rafflecopter during the tour.


a Rafflecopter giveaway