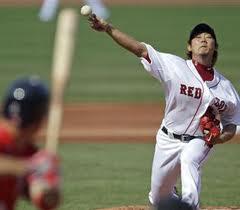 The Red Sox dropped yet another series at home on Saturday, 4-2, to the first-place Nationals. But I was encouraged by what I saw with Daisuke Matsuzaka.
Despite giving up four runs in five innings, Dice-K worked quickly, and went after the Washington hitters. None of that nibbling crap. He didn't walk the ballpark, and issued just one free pass (which unfortunately scored and started a three-run rally in the fourth). He gave up a solo home run to Adam LaRoche, and struck out eight.
The bullpen was stellar after Dice-K left, with Franklin Morales and Matt Albers retiring the last 12 hitters of the game.
The Sox were shut down by Gio Gonzalez, one of the NL's best pitchers so far this year. They just can't seem to win at home, and are now below .500 again, at 29-30, and with Tampa Bay's win, are 5 games back.
Jon Lester will try to salvage yet another series at home tomorrow.