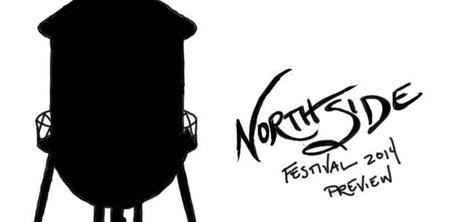 Sure, there is almost always a huge amount of great new music playing the north of Brooklyn on any given weekend, but that doesn't make the annual Northside Festival any less incredible. It's rare, even in the indie music capital of the U.S., that you can waltz from venue to venue and find an absurd  number of great bands playing the same bill — and that's not even including the awesome inclusion of outdoor shows from some of the biggest names in indie music. We look forward to starting our summer with Northside every year, and this year (especially with our own free party at Brooklyn Bowl on Saturday) is absolutely no different.

(B) Unlike most major festivals, the whole point of Northside is discovery, so if you're looking for new bands and new sounds then it's a stellar lineup of kind of knowns to complete unknowns. The headliners this year are not really pushing any new music to speak of, but the last Beirut album was released what seems like decades ago anyway and they're still royalty in the indie sphere.

With the many shows scattered throughout north Brooklyn this week, it's hard to give the title of "headliner" to many of the artists. That said, there are the Northside sponsored outdoor shows, which include Beirut, War on Drugs, CHVRCHES, Sharon Van Etten and Talib Kweli – they would all be playing earlier in the day at most festivals, but here they are the stars of the show.

Beirut
Who doesn't love Beirut? Seriously, they basically made us all the indie music-consuming kids we are today! Beyond that, Zach Condon is one of the most joyous and charismatic frontmen playing today. This show is perhaps one of the best ways to start the summer concert season. Saturday, June 14th @ 50 Kent (7pm)
Titus Andronicus
There is little that is more fun than the bro-down that is a Titus Andronicus show — it's pure, sweaty energy. Not only that, but playing with other punkers, Eagulls, at Warsaw (where punk meets perogies) will absolutely be one of the best, most testosterone-filled shows you'll see in a long while. Thursday, June 12th @ Warsaw (7pm)
Courtney Barnett
The Double EP is easily one of the most interesting and well-written garage rock records in recent memory, and Barnett brings that easy swagger to her set in spades. Saturday, June 14th @ Music Hall of Williamsburg (8:30pm)
Mac DeMarco
Come for the stand-up act, stay for the music. Mac DeMarco's effervescent personality was one of our stand out moments at Northside last year and his set at House of Vans will surely be the same. Thursday, June 12th @ House of Vans (7:30pm)
Sharon Van Etten
We have a well-documented, unabashed love of Sharon Van Etten and simply cannot wait to see her play her newest record Are We There for a sure to be packed and incredible set at Music Hall of Williamsburg. Thursday, June 12th @ Music Hall of Williamsburg (8pm)

Eagulls
These British punks have energy and aggression to spare, and their incredible live sets are something that must be experienced. They're on the cusp of breaking big — their melodic take on classic punk practically demands it — so make sure to catch them while they're still playing relatively small spaces. Not only that, but playing a set with Titus Andronicus will make for, as we said above, the sweatiest set you could ever imagine. Thursday, June 12th @ Warsaw (7pm)
Marissa Nadler
With her darkly sweet songs and absolutely captivating vocals, Marissa Nadler entices me completely. Whether she is playing with a full band or just her and her guitar, the minute she opens her mouth is stunning. The perfect mix of singer-songwriter with dark, gothic tendencies, Nadler's set is a must-see. Saturday, June 14th @ Saint Vitus (11:30pm)
BadBadNotGood
These guys make waves with their mix of jazz and experimentation, especially their extremely buzzy collaborations with members of OFWGKTA. While those who show up to their set simply hoping for a track with Earl Sweatshirt or Tyler, the Creator may be disappointed, those going to see some incredible musicians play genre-pushing music will be floored. Thursday, June 12th @ Glasslands (8pm)
Step Rockets
One of our favorites coming out of SXSW this year based on their catchy, crunchy rock and wildly fun sets, we are extremely excited to see Step Rockets slay once again. The fact that they're playing our very own party at Brooklyn Bowl makes the whole thing all the sweeter. Saturday, June 14th @ Brooklyn Bowl (10pm)
Perfect Pussy
With their abrasive shows and distorted music, Perfect Pussy is perhaps one of the least likely critical darlings in a long while. The fact remains that this band is gaining fans that range from the most hardcore punk rockers to listeners of NPR — so needless to say they are doing something right. Friday, June 13th @ Knitting Factory (7:30pm)