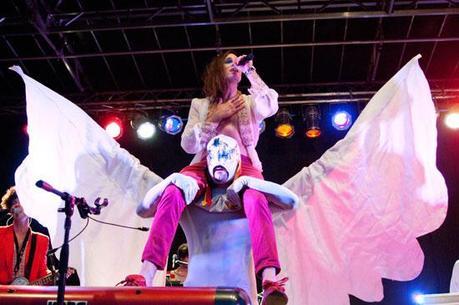 Photo credit: Andrew St. Clair
The streets of Williamsburg belonged to musicians, even more than normal, for the four days that the Northside Festival staked its ground. There was a constant bustle of badge-clad press agents, photographers, managers and agents in addition to guitarists toting their instruments and lead singers trailed by groupies. Booze was certainly also flowing freely. At Good Co. on Hope Street, Jameson hosted a party featuring their whiskey and McClure's pickle juice. A young lady I met at the bar admitted, "I'm not even in the music industry, but all my friends are. And I wish I was." Then she ordered herself a pickleback (a shot of Jameson followed by a shot of pickle juice, which is apparently a New York phenomenon?).
CLICK HERE FOR ALL OF OUR PHOTOS FROM NORTHSIDE FESTIVAL
The catalog of bands and showcases was extensive; in browsing through the program trying to determine which band to check out next,  I quickly realized it was a crapshoot. There were very few names I recognized, so any choice was going to be hit or miss. Luckily, there were more hits than misses. Here are a few highlights.

Caveman (@cavemanband). If you've been paying attention to the music scene at all over the last few months, my accolades for this Lower East Side band will come as no surprise. I happened to catch them twice: Friday night at Music Hall of Williamsburg and Saturday playing an acoustic set on the patio at Good Co. (before the real pickleback-fueled debauchery began). The contrast between the pumped up, dancing crowd at Music Hall and the relaxed listening party at Good Co., where the band's set lasted only about 25 minutes, was striking. Their energy, both in person and in performance, can be best described as chill. Their connection onstage is palpable, their eye contact frequent, as they jam away contentedly. Their sound is full of rich melodies, grooving rhythms and intoxicating vocals. They played through the songs they're known and loved for, and threw in a few new ones on Friday night; one called "December 28th" stood out, its radiant bass lines sounding ironically like an ode to summer sunshine.
Though Caveman's set was unscathed, Music Hall of Williamsburg seemed to be having some audio problems as several of the sets I saw were plagued by rather consistent feedback from the microphones. When Dinosaur Feathers (@dinosaurfeather) played there Saturday night, their eclectic brand of rock, while typically tight and intricately composed, seemed drowned out by the sheer volume of the drums and the guitars. Their playful guitar licks and bold vocals lost all their subtlety in the mix, which seemed an unfair representation of the band's music.
Frankie Rose (@missfrankierose) also battled against her fair share of feedback at Music Hall on Friday night, but her trippy, ringing synth sound blended into the fray more easily.
Then, there was new local band Ghost Beach (@ghost_beach) who put on quite the show late Saturday night at Brooklyn Bowl. The duo's elated electronic pop (which they define as tropical grit pop) prompted some serious moves from the crowded dance floor.  The Thermals (@thethermals), from Portland, whose connections with Death Cab for Cutie are apparent even in their slightly agitated sound and lyrics, gave a solid performance Friday night at McCarren Park.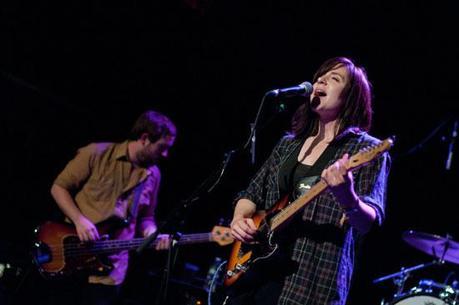 My new favorite out of all of this hullabaloo was Brooklyn band Laura Stevenson and the Cans (@laurastevenson). They played Saturday night at Music Hall (and yes, had some issues with feedback) just before The Oliva Tremor Control drowned the stage both in bodies as well as sound. Backed by four men on bass, guitar, drums and accordion (plus a xylophone thrown in for good measure) Ms. Stevenson's voice pours out with effortless resonance. The songs are dynamic, with bursts of sound woven through them that are quickly reigned back in. The accordion adds a rich complexity to the music; in one song lending the flair of European swing and in another simply enhancing the viscous pull of Stevenson's vocals. They played their own ode to summertime which Stevenson introduced by saying: "This next song is about the summertime. Which I don't like, but it sounds good.  It sounds like a good time."
And indeed, Northside Festival, kicking off the summer as it were, proved to be as good a time as it sounded — both in theory and in the quality of the musicianship.