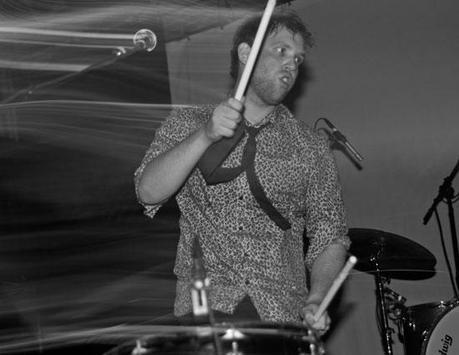 The streets of Williamsburg belonged to musicians, even more than normal, for the four days that the Northside Festival staked its ground. There was a constant bustle of badge-clad press agents, photographers, managers and agents in addition to guitarists toting their instruments and lead singers trailed by groupies. Booze was certainly also flowing freely. At Good Co. on Hope Street, Jameson hosted a party featuringtheir whiskey and McClure's pickle juice. A young lady I met at the bar admitted, "I'm not even in the music industry, but all my friends are. And I wish I was." Then she ordered herself a pickleback (a shot of Jameson followed by a shot of pickle juice, which is apparently a New York phenomenon?).
Photo above: Caveman at Music Hall of Williamsburg
CLICK HERE TO CONTINUE READING OUR NORTHSIDE 2012 RECAP
All photos below by Andrew St. Clair except those of The Pass, Port St. Willow, and Miracles of Modern Science.  Those photos were taken by Alex Munro.