At this very moment in time, I'm sitting in my childhood bedroom, cozy, warm, and dry with a cup of hazelnut coffee by my side.
Miss Irene
has certainly ruined my weekend plans, and yet, I feel as though being stuck at home with my family was a necessary change of pace. I've been going, going, going this entire summer. It was fun, there's no doubt, but it didn't leave ample time to read, write, or relax as much as I would've liked to. That time is now, whether I like it or not.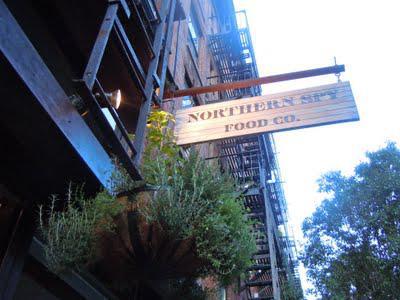 Now that it has, I'd like to share with you the dining experience of the summer. I have literally been dying to go to
Northern Spy Food Co
 since I first discovered it in February. Named after one of New York State's classic heirloom apples, it boasts a menu based on seasonality and quality with as much local goodness as possible. It's small East Village space incorporates as many reclaimed and repurposed materials as possible. And, it maintains one of the wittiest and most entertaining
twitter accounts
there ever was.  I suggest you follow them now.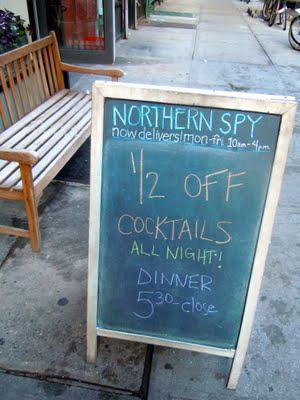 Plus, on Mondays throughout the summer, they offer half-priced cocktails from 5:30pm and throughout the rest of the night. They're really that awesome. Last week, a favorite
dining companion
of mine joined me for dinner to enjoy such deals and delicacies. Please note that when I say delicacies, I'm not simply talking about the cocktails, although they did receive
a fantastic review
in the NY Times.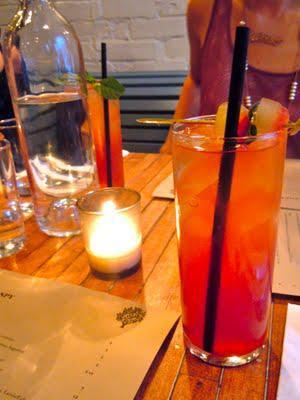 Craving a little spice, I enjoyed
a Salvadoran Fence
: Jalapeño-infused Lillet blac, Punt e Mes, watermelon, basil, lime, and Angostura bitters. It was beyond amazing. Like, my new favorite cocktail kind of amazing. The meal was already off to a perfect start. Then,
Leslie
and I were struggling to decide between two salads to start with. Our waitress suggested we go with one over the other.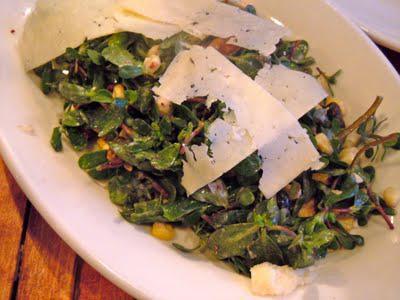 We did, we chose that one. Yet a couple minutes later, the Purslane salad was served (blueberries, roasted corn, green beans, Landaff cheese, yogurt vinaigrette) alongside the Peach salad (padron peppers, mint, honey).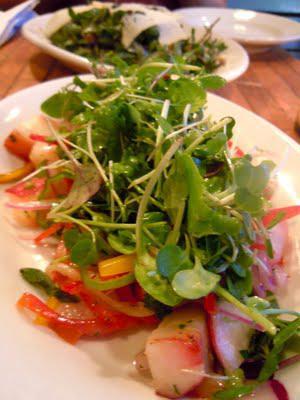 Apparently our second salad was from the manager. We were blown away (no hurricane pun intended). After happily clearing both plates, out came our entrées: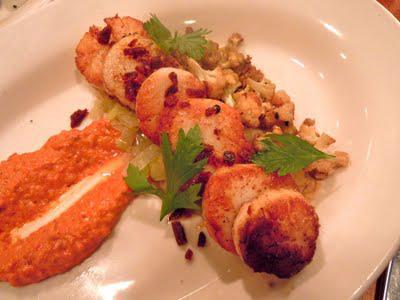 We both ordered specials of the night. I had succulent (yes, succulent) scallops from Long Island served with a zesty carrot tapenade and roasted cauliflower.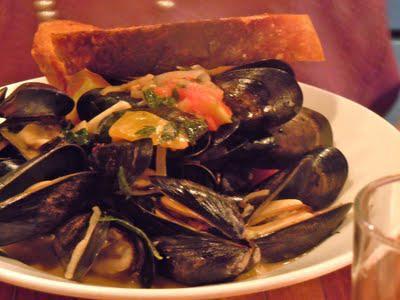 Leslie had a beautiful bowl of mussels in a white wine sauce with crusty country bread. These dishes alone could have wonderfully satisfied us, but we were also served a complimentary side of their duck fat fries with malted spiced yogurt.
I wouldn't be surprised if these fries were their most popular side item; they were delicious. As was the dip which was made by
Lancaster Farm Fresh
. We enjoyed as many bites as we could, but could not believe our luck, nor their generosity.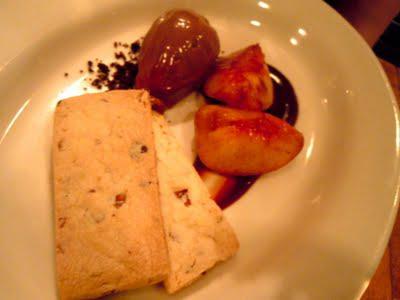 And that was before dessert, a course for which I was very honestly considering not ordering. In the end though, I did, because Leslie promised to split the Chocolate and Peaches (vanilla roasted peaches, dark chocolate sorbet) with me, and I figured it was only fair I taste a full spectrum of their incredible offerings.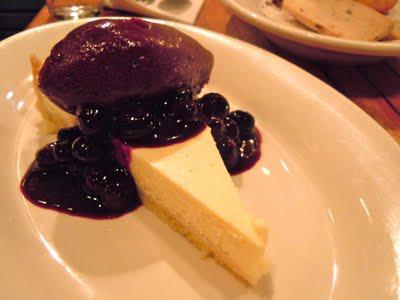 Taste I did. In addition to our chosen item, they served us the Goat's milk cheesecake (blueberry compote, blueberry-thyme sorbet), compliments, again, of the manger. What? Why? How? I couldn't tell you. I really couldn't. They later tweeted us that it's "always a treat to see our tweeters." Perhaps they're fans of food blogs as well. All I know is that the entire experience was sublime and I will return soon. Maybe I'll go back on a Wednesday night for their 1/2 carafe deal, or a Sunday night for their $24 three-course supper. In the mean time, at least I have their daily special tweets to provide instantaneous seconds of edible pleasure.
P.S. Wherever you are as you read this, I hope you are cozy, warm, dry, and most of all, safe, too.