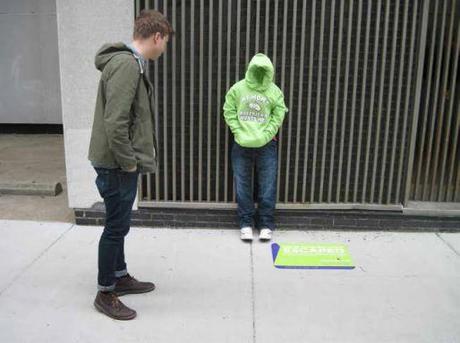 Image from Contributed by Bellefaire JCB
A Cleveland woman saw a child in need in downtown on her way to work. She quickly discovered that the child wasn't real.
"I felt kind of silly for thinking it was real," Lashawn Chillous, mother of a 9-year-old boy, said in a Facebook message, "but kind of sad that no one else seemed to stop and do the double take that I did. No one even looked at the 'kid' when they walked past."
The fake child was part of a campaign to raise awareness this month about youth homelessness. The campaign was organized by Bellefaire JCB, a child welfare agency; and Doner Advertising. Larry DeAngelis, Senior Vice President of Doner, said that they had an opening for a pro bono project when Bellefaire JCB approached them.
"It seemed like a good opportunity to help them and do some good work," he said.
The campaign features mannequins called Somebodies that have information on their sweatshirts about why they are homeless.The sweatshirts have statements such as "I'm too afraid to go home" "My dad kicked me out because I'm gay," and "My mom's boyfriend hurts me."
"A lot of people assume that these were bad kids who chose to run away," DeAngelis said, "and we wanted to get the word out that most of them were fleeing an untenable situation and really didn't have a choice."
The California Youth Homelessness Project said that there are a variety of factors that make it difficult to calculate the number of homeless youth in any given community, or in the United States as a whole. However, a cleveland.com article said that Case Western Reserve University's Mandel School of Applied Social Sciences reported in 2013 that there are about 400 homeless teens in Cuyahoga County.
Karen McHenry, Homeless and Missing Youth Program Director, said that it is important that teachers and other people who interact teens take notice if something is wrong, because teens won't try to make it obvious that they are homeless.
"They're invisible to most people," she said.
Bellefaire JCB has encouraged people like Chillous who see the Somebodies to spread awareness taking pictures of the Somebodies and posting them online using the #saveclekids hashtag.
#saveCLEkids @bellefairejcb pic.twitter.com/lhPwMMjT0z

— Dana DeNoi (@DanaMarie1219) May 5, 2014
People are also encouraged to post information about youth homelessness.
40% homeless youth physically abused #saveCLEkids #Bellefaire http://t.co/UkCX6DZgNv

— David Baden (@DavidBaden) May 13, 2014
Another way the campaign is being spread online is through sharing of a PSA video on Youtube.

The campaign has been covered by publications all around the world, including Le HuffPost in France.
Arnold said that the purpose of the campaign is not only to bring awareness to the issue of youth homelessness, but also to help teens who are in need.
"We're always looking for ways to be able to educate the community,"she said, "and to find a way to reach out to teens to let them know that there are alternatives to living on the street. "
If you or someone you know in the Greater Cleveland area needs help, you can call Bellefaire JCB's Homeless and Missing Youth 24/7 hotline at 216-570-8010. If you are not from the Greater Cleveland area, you can contact National Safe Place at http://nationalsafeplace.org/ or text the word "Safe" with your current location to 69866.
Other sources:
http://www.huffingtonpost.com/2014/05/01/homeless-youth-mannequins-_n_5248709.html