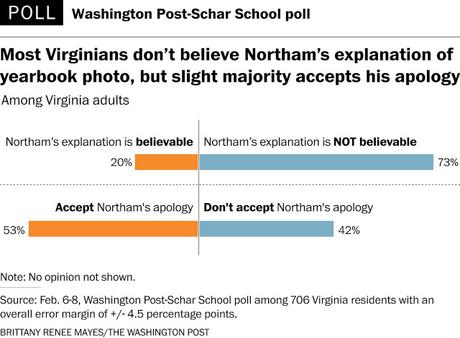 It would be an understatement to say Virginia Governor Northam has a problem. The revelation that his medical school yearbook page had an image of someone in blackface standing next to someone in KKK regalia has people questioning his sensitivity and judgment -- and many are calling for his resignation. Compounding his problem is that only 20% accept his explanation that he was not one of the figures in the photo and the photo appeared on his page in error.
But there are a couple of things in his favor -- that may allow him to finish his term as governor of Virginia. First is that a majority of Virginians accept the apology he made (53%). Second is that the Lt. Governor has even more serious problems than Northam has. He has been accused by two women of sex abuse and rape (which are real crimes and not just offensive conduct). And the third in line, the state's Attorney General, also has admitted appearing in blackface while in college. If Northam has to go, then so will he.
He's not out of the woods yet, but Virginians are split now over whether he should resign (47% to 47%). And what may surprise you, Blacks in Virginia say he should not resign by a 21 point margin (58% to 37%).
This latest polling, and the problems of other ranking state officials may combine to let Northam finish his term as governor. However, I would bet on him being able to get re-elected. Surely, Virginia can find someone qualified that doesn't have skeletons in his/her closet.
These charts are from a new Washington Post / Schar School Poll -- done between February 6th and 8th of 706 Virginia residents, with a 4.5 point margin of error.